In the early hours of Dec. 20, 2017, Litecoin creator Charlie Lee made a stunning announcement on Reddit: He sold almost all of his litecoins.
He said he sold his coins because it was a conflict of interest to hold LTC and use Twitter Inc. (NYSE: TWTR) to talk about Litecoin. He has so much influence as the creator that his comments can move Litecoin prices.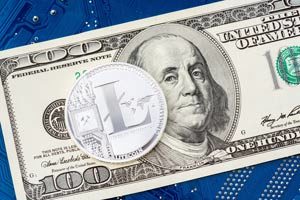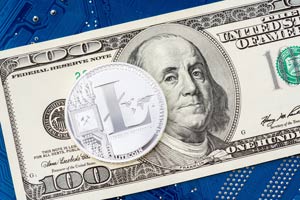 "Over the past year, I try to stay away from price related tweets, but it's hard because price is such an important aspect of Litecoin growth," Lee said. "And whenever I tweet about Litecoin price or even just good or bad news, I get accused of doing it for personal benefit."
He went on to say he wasn't going to quit Litecoin and will still spend time working on it. Lee is still listed as the managing director for the Litecoin Foundation.
But the announcement still created a panic in the crypto community...
Litecoin Prices Drop 10% After Charlie Lee's Announcement
The day of the announcement, Litecoin prices opened at $349.60. By the end of the day, the price fell to $314.62, a loss of 10%.
Sign up for SMS so you never miss special events, exclusive offers, and weekly bonus trades.
Since then, Litecoin has dipped even further to $245.37 per coin, a drop of 29.8% since the morning of Lee's announcement.
On social media sites like Twitter and Reddit, some have accused Lee of dumping his LTC holdings after the coin was trading at all-time highs.
Others believe he sold his coins because Litecoin is partnering with Facebook Inc. (Nasdaq: FB).
This theory suggests Litecoin could become the digital payment platform for the social network, and Lee was required to sell his coins by Facebook as part of the deal.
But Lee said he wasn't aware of any Facebook partnership deal on Twitter on Dec. 24, 2017.
Social media users are still debating the exact reason why he sold his coins, but Litecoin holders need to realize one thing: Lee had to take a step back from his creation.
Must Read: Tom Gentile just released the most surefire way to pick up extra cash in 2018. Now, he's prepared to reveal how you can collect $162,000 from a small, one-time stake of $12,000. Find out how it works...
He's the face of Litecoin, and LTC can't be successful if it's solely reliant on what he says and does.
But by selling his coins, Lee is avoiding conflicts of interest, and he believes it's the best way to oversee Litecoin's growth, according to his Reddit post.
With Lee selling off his coins, the crypto community can now look more toward the Litecoin Foundation's role in expanding its platform, as well as merchants who will accept the coin.
Better features and more user adoption will help Litecoin prices climb more than anything Lee could say about it on Twitter. That's because there will be more demand for LTC, meaning more people who are willing to pay higher prices to own Litecoin.
In fact, the founder of CryptoRus.com, a site that provides how-to guides and analysis on cryptocurrencies, has a very bullish Litecoin price prediction, projecting gains of 523%...
You Won't Believe This Bullish Litecoin Price Prediction for 2018