Gold is back on everyone's list as a must-have investment this year, and one of the best ways to profit from rising gold prices is to invest in gold mining stocks.
Gold prices are up 6.3% since hitting a five-month low on Dec. 12. And this gold price rally is only just beginning.
Money Morning Resource Specialist Peter Krauth predicts we are entering a gold bull market that could last until 2020, at least.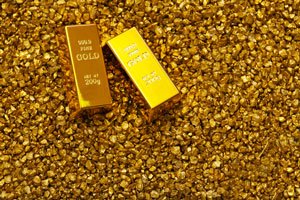 While investors can always invest in gold by owning physical gold or gold-backed exchange-traded funds (ETFs), buying the right gold mining stocks can be an even more lucrative way to profit from the rising price of gold.
Gold miners become more profitable when gold prices rise, and well-managed companies with fertile mines can see their share prices rise much faster than gold.
Free Book: The secrets in this book helped one Money Morning reader make a $185,253 profit in just eight days. Claim your free copy...
Since gold prices began to rally on Dec. 12, the price of gold is up 6.6%. But the Van Eck Gold Miners ETF (NYSE Arca: GDX) is up 11.3% in the same time. And since GDX tracks the entire gold miners index, it's weighed down by poorly run or unprofitable companies.
That's why we're going to show you one of the best gold mining stocks to buy in 2018.
But first, here's why the gold price rally is just getting started...
Why the Price of Gold Will Soar in 2018
Since gold hit its recent low of $1,045.40 in 2015, the precious metal has been on a bullish trend, with a 19.1% uptick in value.
In fact, right now could be just the beginning of gold's price rally.
Krauth sees the current bull market as something similar to the 1970's, where gold prices soared 700% before peaking in 1980. If the current gold bull market is anything like the one in the 1970s, then investing in gold in 2018 could be a very profitable decision for investors.
Investing in gold can be so profitable, because gold is more than just a shiny object that we pull from the ground.
The precious metal is used to both store wealth and is a component in manufacturing everything from jewelry to electronics. Those factors help push up demand for gold, which boosts its price.
But it's gold's use as a store of wealth and a hedge against uncertainty that's going to help boost its price in 2018.
There are three reasons we're expecting demand for gold to surge.
First, the value of the U.S. dollar is falling.
The U.S. Dollar Index (DXY) is steadily declining. Between January 2017 and January 2018, the DXY is down nearly 10%.
As the dollar weakens, gold becomes more valuable.
Don't Miss: 10 Reasons Why Gold Could Hit $3,000 an Ounce
Second, investors are starting to flock toward gold.
Another bullish indicator for gold prices in 2018 is investor trends. And right now, investors are moving into long gold positions.
Check out the Gold Bugs Short Index (NYSE Arca: HUISH). This index tracks the short positions taken on gold investments. Right now, HUISH is down 11.25% since this time last year, which means investors are pulling out of short positions on gold stocks.
That's a sign people who are putting money in the game expect gold prices to keep rising.
Third, turmoil across the world is raising uncertainty.
The threat of war with North Korea, the collapse of Venezuela, or even the potential for a stock market correction this year are all catalysts for gold prices.
If any event threatens stability or causes investors to worry about the future, gold's value goes up. Because gold is seen as a hedge against destabilizing events, investors buy up gold positions when uncertainty rises.
And 2018 will be no different...
That's why Krauth believes that we will see gold prices reach $1,400 in the first half of the year, which is about 12% above the current price. However, by the end of 2018, he predicts that gold will hit as high as $1,500, which is 18% above our current level.
These coming gains in gold prices make now the perfect time to invest in the right gold mining stocks, which Krauth believes are undervalued relative to the price of gold...
Invest in Gold Mining Stocks with Our Top Pick
[mmpazkzone name="in-story" network="9794" site="307044" id="137008" type="4"]
Our top gold mining stock for 2018 is also one that we recommended early last year. In March, Money Morning Executive Editor Bill Patalon alerted readers to a gold miner that is poised to outperform its competitors...
Goldcorp Inc. (NYSE: GG) remains one of the top gold stocks to own for several reasons.
Goldcorp is a Canadian gold miner that has been involved in innovative projects that promise to foster future growth.
As far back as 2000, the company held what it called its "Goldcorp Challenge" as a means to find new places to mine for gold. It asked the public for input, offering a $575,000 bounty, and the response was overwhelming. Physicists, geologists, engineers, students, and amateur miners from around the world responded with data that resulted in Goldcorp liberating more than $3 billion worth of gold from the ground in the following decade.
The exercise was so successful that Goldcorp has decided to repeat it at its 2018 #DisruptMining innovation expo, with an offer of $1 million to the individual or group that delivers the winning, cutting-edge technology in the mining sector.
While this upcoming event is exciting and innovative, it's not the only way that Goldcorp plans to increase returns to investors.
In fact, Goldcorp has a specific three-point plan in place to boost its output over the next five years and increase its reserve by about 20%.
First, GG plans to boost earnings.
When the company reported its Q3 earnings in October, the result was $111 million for the quarter or $0.13 earnings per share. This was almost a twofold increase over the Q3 2016 earnings of $59 million and greater than the expected earnings of $0.10 per share.
Second, Goldcorp wants to slash its costs so that it is making more money off of every ounce of gold it mines.
Gold miners use a figure called the "all-in sustaining cost" (AISC). A lower AISC is better, as it means that the operation is more efficient. In 2016, GG's AISC was $936, but it now sits at $827, which is an 11.6% reduction in costs over one year. The goal is to get the AISC to $700 over the next 10 years, which it should achieve much sooner at the current rate.
Third, the company has been committed to securing more growth opportunities for the future.
It has done this primarily through some acquisitions and strategic partnerships. For example, last July, the company acquired both Kaminak Gold Corp. and the Coffee Gold Project in Canada's Yukon in a single deal worth $373 million.
In March of last year, GG secured a "private placement" deal worth $4.75 million with Triumph Gold Corp. (CVE: TIG), giving GG a 19.9% stake in Triumph. This deal gives Goldcorp right of first refusal on all future Triumph deals.
Not only is GG a well-run, innovative gold miner, but it's also going to be much more profitable thanks to the rising cost of gold.
That's why TD Securities has a one-year price target for GG of $20 a share. That's nearly a 50% gain over today's share price of $13.43, but it might be too conservative now that the gold rally is getting underway.
He's on Pace to See 3,390% Total Winning Gains Per Year
 The Night Trader is unlike anyone we've ever met.
He's in the top 1% (of the top 1%)...
He only works five minutes a day...
He lives by his own rules, doing whatever he wants, whenever he wants...
And now, he's disclosing his coveted strategy for the first time ever. Pay close attention.