Today, we're bringing readers two of the best stocks to buy in 2018. In fact, Money Morning Capital Wave Strategist Shah Gilani sees a confluence of positives for these two stocks and the overall markets as we enter the second week of 2018.
One of the biggest trends driving the market higher has been earnings. And with earnings season fast approaching, the timing is perfect for those looking to add positions in these two stocks.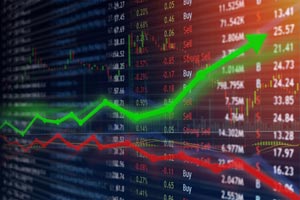 As you know, one of the best methods for market-beating gains is correctly identifying major trends in the market.
That's precisely what Gilani has done for readers today…
"The easiest, smartest, and most financially rewarding way to play stocks and markets is by riding trends," Gilani said. "That's because trends tend to have longevity, and various momentum boosters can drive them faster and further in the direction they're going."
In fact, there is a whole subgroup of Wall Street experts that espouse nothing other than following the trend. We've all heard, "the trend is your friend."
No matter what your political affiliation, no matter what you thought of what might happen in the stock market after the election, there was no doubt whatsoever that the market made its decision in November 2016 that it wanted to run higher – much higher.
You can't argue with 71 record highs for the Dow Jones Industrial Average in 2017.
You also can't argue with the S&P 500 notching gains in every month of a year – the first time that ever happened. Plus, the streak was actually 14 straight months.
The market exploded higher in November 2016 and did not look back. That is the power of a trend.
And the two top stocks to buy we're recommending today will lead the markets in 2018…
Tax Cuts and Earnings Will Drive These Stocks to Buy Even Higher
Stocks rallied in anticipation of the sweeping tax cuts just enacted by Congress and signed by the president. Yet, the prospects for corporate tax cuts are only partially baked in. When individuals and corporations see these cuts affect their bottom lines, stocks should get another substantial boost.
Analysts estimate that the earnings per share for the S&P 500, projected to be $141 in 2018, will get an additional $10 per share boost now that the top rate is reduced from 35% to 21%.
More importantly, the big tech stocks that are leading benchmarks and exchange-traded funds will be repatriating hundreds of billions of dollars from overseas accounts when the one-time, 15.5% repatriation tax rate draws all that idle cash back home.
Learn How to Turn $500 into $1 Million: This Sunday School teacher's "retirement career" made him a millionaire. This book will teach you how you can do it too. Claim your FREE copy…
What will corporations do with that windfall? Some of the cash will fuel R&D. Some will be used for acquisitions. And some will be returned to shareholders in the form of special dividends and share buybacks.
All of that naturally boosts share prices, especially for the two stocks to buy we're bringing you today.
Double-digit earnings growth in the S&P 500 drove stocks higher in 2017 and should continue to fuel their rise in 2018. When fourth-quarter 2017 earnings start coming out in mid-January, look for results that are even better than they were in Q3, which saw an across-the-board earnings growth of almost 11%.
Wall Street agrees and expects earnings in Q4 to be even better. Conditions remain favorable for companies with earnings growth momentum to continue to lead markets higher in 2018.
That's why Gilani just revealed his two favorite earnings growth juggernauts.
Both companies play perfectly into the 2018 narrative, feeding off tax cuts, global growth, and especially growing customer bases.
2 Stocks to Buy Now as Earnings Season Fast Approaches