Oil prices surged to their highest level since 2014 last week (Jan. 3), and they're still rising. But there's another asset about to soar even higher thanks to this trend…
The falling value of the dollar is one of the catalysts behind rising oil prices. Over the last year, the U.S. Dollar Index (DXY) fell 10%, while WTI crude oil prices gained 23%.
Events like OPEC's decision to extend its oil production cut and protests in Iran have led to short-term movement in oil prices, but the dollar has had a major impact as well.
Check out how the dollar and oil move nearly inverse to one another.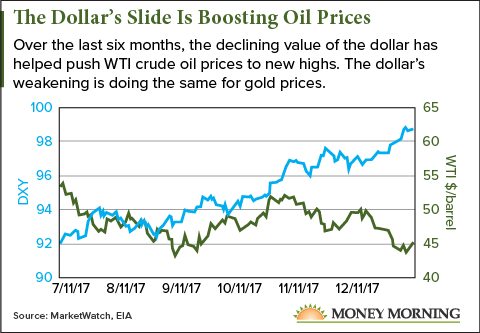 You see, because oil trades in U.S. dollars, the value of the dollar affects the price of oil. As the dollar weakens, international buyers can purchase more oil, since their currencies are worth more relative to the dollar. That buying action pushes oil prices higher.
And it's pushing another asset even higher…
The Night Trader's Secret: A former Wall Street insider just revealed a new strategy for executing night trades that could set you up for potential $850, $2,250, or $6,775 paydays – overnight. Click here.
Gold works the same way as oil when it comes to the falling dollar. Gold prices are already up 10% over the last year, just as the DXY fell by 10%.
But last year's gold price jump was just the beginning for the yellow metal.
Not only do gold prices have the potential to double this year, but they're also going to make the right gold stocks explosively profitable.
Don't Miss: 10 Reasons Gold Could Reach $3,000 in 2018
During the last gold bull market, this special class of stocks saw gains of 10,000% or more.
Once you see the profit potential for yourself, your life will never be the same again…
How Much Money Could You Make in This NEW Bull Market in Gold?
If you had invested just $1,000 in one of these stocks during the last bull market, you could be 1.5 million times richer today.
It's not the only stock that could have made you millions in the last bull market. Many stocks like it soared to rare and exceptional heights of 1,000%… 5,000%… 10,000%… 30,000%… 70,000%… 90,000%… and more.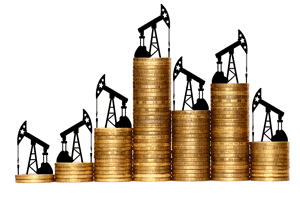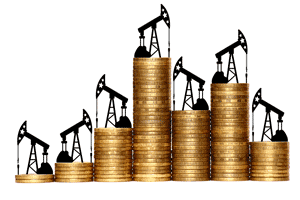 And right now – in this new bull market – these same kinds of stocks are doing it all over again.
In fact, in the short time since this bull market began, 104 of these stocks could have more than doubled your money.
So if you missed out on the life-changing profits these stocks produced in the last bull market, you could now have a second chance to make millions… secure your retirement… and live better for the rest of your life.
Follow Money Morning on Twitter @moneymorning, Facebook, and LinkedIn.