In our cryptocurrency newsletter this week, we wanted to bring our readers all of the most important crypto news and moneymaking advice in one place.
And you can see from our recent reports why it's so important to stay informed on the crypto market...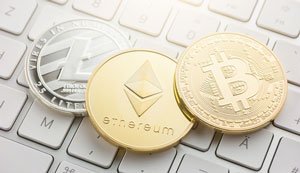 On Nov. 27, 2017, we shared a backdoor investing strategy that allows risk-averse investors to invest in Bitcoin without buying Bitcoin directly.
Today, that investment has climbed 24.67% in a month and a half.
In comparison, the Dow Jones Industrial Average is up just 6.8% during that same time.
Then, on Nov. 29, 2017, we showed our readers how to buy Litecoin after prices climbed past $100. Those who bought in after reading the report have netted gains of 141.43% in less than two months.
But we know it's hard to keep up with everything in the fast-paced crypto world.
That's why today, we wanted our readers to find all of our exclusive cryptocurrency reports for the week of Jan. 8 in one place.
And if you need to catch up, the first place to start is with our digital currency market breakdowns about the biggest news in the crypto world...
Cryptocurrency Market Breakdown
This week, we published reports on TRON, Medibloc, and Jamie Dimon changing his tune on calling Bitcoin a "fraud."
You can catch up on all these by clicking the links below.
TRON Prices Fall 2.8% Despite News CEO Confirms Office Space in San Francisco
Medibloc Prices Surge More Than 120%, While Jamie Dimon Regrets Calling Bitcoin a Fraud
TRON Prices Slump 18% as Major Partnership Announcement Leaves Some Traders Disappointed
As you can see, TRON was in the news after its incredible price gain...
Why TRON Prices Skyrocketed 3,650% in One Month
From Dec. 9, 2017, to Jan. 9, 2018, TRON prices skyrocketed 3,650%.
One of the reasons is the hype around TRON founder, Justin Sun. He's a 26-year-old visionary and a protégé of Alibaba Group Holding Ltd. (NYSE: BABA) CEO Jack Ma.
Urgent: How One Single Stock Could Help You Become a Multimillionaire
But the hype around Sun isn't the only reason prices climbed...
In this article, we provide all the details on why TRX (the official currency of TRON) prices have climbed nearly 4,000%.
Because of the interest in TRON, we've also been asked how to buy it...
How to Buy TRON
On Jan. 11, Money Morning Director of Technology & Venture Capital Research Michael A. Robinson published a report detailing the best crypto exchanges to use.
You can access the report right here.
Because of TRON's massive returns in such a short time, our readers have also been asking us what other kinds of cryptos should be on their watch list.
Video
The Top 5 Cryptocurrencies to Invest in Today
We have two you need to know about right now...
America's No. 1 Pattern Trader Sees Potential 1,000% Gains for 2 Coins
Out of more than 1,300 cryptocurrencies to invest in today, only a few will see triple- and quadruple-digit gains in 2018.
Most of them will disappear - much like the dot-com bust of the 90s.
That's why Money Morning's options trading specialist, Tom Gentile, is weeding through the crypto "trash" and finding the best ones for profits.
He thinks two crypto coins could set you up for gains of up to 1,000% this year.
Here's what Gentile had to say.
Outside of coins we're watching, tech pioneer John McAfee also has his eye on a certain crypto coin...
John McAfee's Coin of the Week
Created as a joke by founder Jackson Palmer, many in the crypto world were surprised McAfee selected Dogecoin (DOGE) as his coin of the week.
However, a powerful community can do great things, as we've seen with DOGE.
Take a look at our report on what McAfee called one of the most "widely accepted and loved cryptocurrencies in the world."
With all the news around alt coins, you may be wondering if we forget about Bitcoin.
Don't worry - we haven't...
Bitcoin Prices Could Skyrocket to $75,000 in 2018
On Jan. 9, Money Morning Cryptocurrency Expert David Zeiler interviewed John Pfeffer, a London-based entrepreneur who was a partner at private equity firm Kohlberg Kravis Roberts for 11 years.
Pfeffer believes Bitcoin prices could reach $75,000 by the end of 2018.
From today's price of $14,020, that's a potential gain of 434.95%.
Not bad, but he thinks it's going to get even better for Bitcoin holders.
Here's everything you need to know about his bullish Bitcoin price prediction...
In other Bitcoin news, we also wanted to keep Money Morning readers in the loop about Bitcoin hard forks.
There's a fierce debate in the crypto community about forks that create new coins, like Bitcoin Cash, but splits can still be very profitable.
Since Aug. 1, 2017, the price of Bitcoin Cash has climbed from $294.60 to $2,891.55.
That's a gain of 881% in a little over five months.
To see what hard forks have similar profit potential, make sure to access our hard fork report right here.
All of these reports are published on MoneyMorning.com. But if you want to receive them and our moneymaking recommendations in real time, sign up for our free Bitcoin & Cryptocurrency Profit Alerts service.
That way, our reports will directly hit your inbox as soon as they are published.
This Trader Is Betting It All He Can Show You How to Turn $5,000 into AT LEAST $174,500
Chris Johnson is on pace to see 3,390% total winning gains this year.
And now, he's guaranteeing his recommendations will give you the chance to do the same.
If not, he's working for free.
So mark your calendar for one year from today...
Set a reminder on your phone...
And click here to learn how to join right now.
Follow Money Morning on Facebook, Twitter, and LinkedIn.