We all know gold is an excellent way to protect your wealth in times of market uncertainty and political turmoil.
And gold has also become one of our favorite profit opportunities in 2018 thanks to the U.S. Federal Reserve's rock-bottom interest rate policies over the past decade and political tensions in Asia.
In fact, Money Morning Resource Specialist Peter Krauth believes gold prices could rise 300% by 2020.
Which is why we're going to show you the three best ways to buy physical gold online.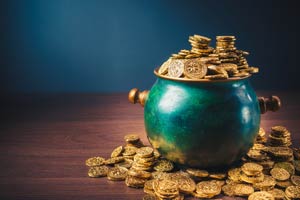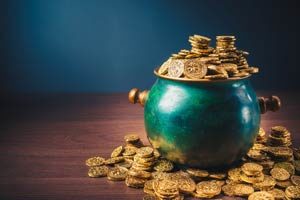 Unlike other investments, physical gold protects you from the silent killer of savings: inflation.
Inflation is the rate the price of general goods and services increases. As the inflation rate rises, the purchasing power of the U.S. dollar decreases. That means if your money is sitting idle in a checking account or in a safe, it's worth less and less over time.
But if you invest your wealth in physical gold, you can protect yourself from this savings killer.
Investing in physical gold is not just simple. It can also be a lot of fun!
FREE eBook Reveals: The Little-Known Investment That Is 582X Better Than Gold! Click Here.
The first way we'll show you to buy physical gold online is probably one you're already familiar with.
Here are a few tips for doing it properly...
Best Ways to Buy Physical Gold Online, No. 3: eBay
You may have used eBay Inc. (Nasdaq: EBAY) to buy used items. But have you ever considered buying used gold on there as well?
If you're anything like us, then you love finding deals. And there aren't many better places to find good deals than in a peer-to-peer online marketplace like eBay.
There you can find everything from scams to rare gold coins trading at a discount because the seller needs the money fast.
But if you buy gold from an online seller on eBay, there are additional steps to take to protect your purchase.
According to eBay's website, it's important for a prospective gold buyer to:
Be aware of gold's current market value and be wary of any gold listings that are significantly different.
Review any negative feedback a seller might have.
Make sure the gold shipments are insured and remain private.
Have an independent appraiser confirm the value of the gold.
By following these tips and keeping in mind the old proverb, "if it sounds too good to be true, it probably is," you can be successful buying physical gold online.
Urgent: These Overlooked Gold Investments Have Gained as Much as 7,679%.
However, if that all sounds like a lot of work you'd rather not do, then these next two ways of buying physical gold online will be right up your alley...