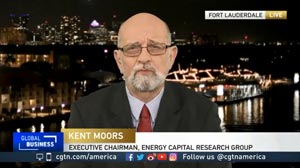 Money Morning Global Energy Strategist Dr. Kent Moors is one of only a handful of people on the planet who recognizes the historic event about to take place in the energy markets.
He is an internationally recognized expert in oil and gas policy and emerging market development.
He's highly respected in this industry and has made over 2,100 appearances on networks like CNBC, CNN, and Bloomberg during his 40-year career.
That's because he knows about developments in the energy market before they happen.
How? Because he serves as an energy advisor to 29 world governments, including the United States, Russia, China, Iraq, Australia, and Kazakhstan. He's advised every major agency of the federal government on energy issues… not to mention numerous U.S. states and governors.
And as a consultant to six out of the world's top 10 energy producers, Dr. Moors' travels frequently land him behind the scenes, on the inside.
He maintains regular contact with the most important people in the industry – the world's biggest buyers and sellers of energy… and the policymakers who set the rules.
We're telling you all this because we want you to take the following information incredibly seriously.
Dr. Moors' exclusive contacts have led him to identify a seismic shift in the global energy markets.
The last time something this big hit, early investors saw a rare 150,000% gain.
And while history doesn't always repeat itself, even a fraction of that would change anyone's life.
Now, we could see something similar very soon.
Read on…
A Massive Stock Surge On the Horizon
Dr. Kent Moors has long been tracking a situation in the U.S. energy markets that is about to absolutely explode with newfound wealth.
That's because the United States is suddenly flush with a clean, cheap energy source, and the world is seeing an unprecedented demand for energy.
And now, a shocking new proposal by the U.S. Department of Energy has lit the fuse and could launch a tiny $2 million startup into the stratosphere – minting millionaires in the process.
Make no mistake: You could be one of them.
Early insiders already hold stakes worth $752 million in this startup. That's over three-quarters of a billion dollars just in one tiny company.
Perhaps they know something big is about to break…
Of course, no one knows for sure, but Dr. Moors' analyses all indicate that a huge move is coming for this company.
In fact, he sees this tiny, $2 million company doubling, tripling, even quadrupling over and over again, as a whole new sub-niche of the global energy markets comes to fruition.
You see, this new sub-niche takes one of energy's most lucrative sectors and ratchets up the opportunity mega-fold.
Forbes calls this "The future of energy… with no other power source even close to matching its potential over the next few decades."
Bloomberg agrees, calling this revolution a "bonanza"…
…and The New York Times confirms the facts, saying this boom is "Shaking up the energy world."
Here's the thing: These media outlets know something big is coming, but Dr. Moors is one of the only people on earth who knows exactly which companies to watch ahead of this once-in-a-lifetime energy event.
And for a limited time, you can see how you could profit from this $7 trillion energy development.
But you have to act fast. Due to the nature of this special dossier, he can only share it with a small group of individuals.
Make sure you secure yours, before it's too late, by clicking here.
Follow Money Morning on Twitter @moneymorning, Facebook, and LinkedIn.