When you look at market performance, 2017 was the best year for American investors since 2013. The S&P 500 rose 19.4%, while the Dow climbed 25.1%, with an unprecedented 71 record-high closes.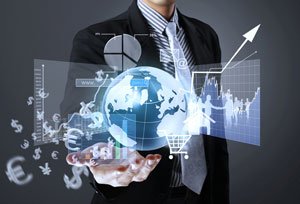 No matter what the market does in 2018, there's no reason you can't beat last year's gains by zeroing in on the stocks with the most growth potential.
As we've said before, the road to wealth is paved by tech.
The Nasdaq, where many U.S. tech stocks are listed, was the best-performing major index last year. It gained 28.2% on the year, helped in large part by some familiar names.
Apple Inc. (Nasdaq: AAPL) gained 50%, Amazon.com Inc. (Nasdaq: AMZN) gained 60%. Smaller companies we've recommended to Money Morning readers, like Cognex Corp. (Nasdaq: CGNX) and NVIDIA Corp. (Nasdaq: NVDA), doubled their value.
So how do you separate the winners from the losers, to make even more money this year?
Money Morning Director of Technology & Venture Capital Research Michael Robinson has developed five simple rules to help you do just that.
The Five Simple Rules to Finding the Biggest Tech Profits
Rule No. 1: Great Companies Have Great Operations - Look for companies led by people with strong track records, that have made smart acquisitions, and maintain solid balance sheets.
Michael recommended Adobe Systems Inc. (Nasdaq: ADBE) in 2013, pointing out that it was one of the most respected software firms in the world. It had created the industry standard platforms for media professionals. And rather than resting on its laurels, it was still improving its product. Adobe was an early adopter of cloud-based software, lowering the short-term cost of its products and expanding its user base. The stock is up 338% since Michael recommended it, compared to 69% for the S&P 500.
Rule No. 2: Separate the Signal from the Noise - If the fundamentals aren't strong, all the hype in the world isn't going to keep a stock rising in the long term.
Sign up for SMS so you never miss special events, exclusive offers, and weekly bonus trades.
There's always a lot of noise around Apple Inc. (Nasdaq: AAPL). In 2013, two years after Tim Cook had replaced the legendary Steve Jobs, the "noise" was that Apple would never find its way again. But Michael looked at the fundamentals and the strength of the products coming out and told readers the stock price would double. Sure enough, AAPL is up 137% since then.
Rule No. 3: Ride the Unstoppable Trends - Even well-run companies need a wave to ride. Look for stocks in the hottest sectors, those that offer the best chance for massive gains.
One of those waves to ride is legal marijuana, especially for pharmaceuticals. That's why Michael singled out GW Pharmaceuticals Plc. (Nasdaq: GWPH) in 2014. GW has already put a cannabis-based mouth spray to treat pain from multiple sclerosis in the United Kingdom. And it could soon become the first company to have a cannabis-based drug hit the U.S. market. GW's stock price is up 119% since Michael recommended it, compared to 50% for the S&P 500.
Rule No. 4: Focus on Growth ­- "Companies that have the strongest growth rates almost always offer the highest stock returns," Michael says. This goes back to Rule No. 2: Revenue and profits, not hype, drive a company's value.
Between 2010 and 2014, Activision Blizzard Inc. (Nasdaq: ATVI) nearly doubled its earnings per share. Michael picked it in 2015, and in just two-and-a-half years, the stock price has more than doubled, while the S&P has climbed only 40%.
Rule No. 5: Target Tech Stocks That Can Double Your Money - It's known as the "Rule of 72": Divide 72 by a stock's growth rate to see roughly how many years it will take to double your money.
In line with the previous four rules, Michael suggests using a company's earnings growth - that is, its fundamentals - rather than stock price growth, which can be driven by hype. Find the stocks that can consistently grow earnings by double-digit percentages, and you'll be doubling your money in a few short years.
You can see from the examples above that Michael is great about following this rule. All four of the stocks mentioned have doubled - and then some - in the last few years.
So, now armed with these five rules, let's look at five stocks that could deliver tech fortunes in 2018.
Tech Pick No. 1: The Most Advanced Medical Science Will Soon Cost Less Than a Smartphone Thanks to This Genetics Pioneer
After the first human genome was sequenced in 2003, replicating the feat cost about a million dollars. By 2013, one leader in genetic analysis had gotten it down to $4,000.
Today, that company can perform an entire human genome sequencing for $1,000, and according to Forbes, it's not far away from being able to do it for just 1/10th of that.
Launched in 1998, Illumina Inc. (Nasdaq: ILMN) is tapping into an industry that, according to Mordor Intelligence, will grow 50% to be worth nearly $60 billion by 2021: precision medicine.
Precision medicine is a model for delivering customized healthcare based on a patient's genetics and other physiological characteristics.
This practice can optimize results and lower costs - especially when genetic sequencing only costs $100. That's probably why Congress was willing to put $215 million into precision health initiatives in 2016.
The sequencing services Illumina provides also help scientists track new viruses before they become widespread and develop advanced new drugs, and they're even playing a growing role in forensics. The San Diego-based firm has also carved out a niche in agricultural genomics, helping to produce healthier crops and livestock.
Illumina's sales have doubled in the last five years, to $2.4 billion in 2016. Its annual earnings growth over the last four years has been 21.5%, meaning this stock is likely to double by 2021.
Pot Stock Profits: A historic event is unfolding in California's marijuana markets, and the wealth expected to flow into this industry is record-breaking. Learn how to cash in here...
With a steady track record and more than $2 billion in cash on hand, Illumina is a paragon of great operations. That's probably why Forbes ranked it No. 18 on its list of "World's Most Innovative Companies" in 2017.
"There's a great chance Illumina can have a major positive impact on your physical and financial health," Michael says.
Find out more about Illumina's startup subsidiaries that Michael likes, as well as his favorite "pick-and-shovel" play on precision medicine.
Tech Pick No. 2: This Sleeping Tech Giant Has Awoken and Is Delivering Returns Across the Board Again
Join the conversation. Click here to jump to comments…
About the Author
Stephen Mack has been writing about economics and finance since 2011. He contributed material for the best-selling books Aftershock and The Aftershock Investor. He lives in Baltimore, Maryland.