Penny stocks are stocks that trade for less than $5 per share. They're popular because of their ability to triple or quadruple your investment in a matter of days.
For example, shares of Neothetics Inc. (Nasdaq: NEOT) gained 230% in a single day, from $0.52 on Oct. 16 to $1.72 on Oct. 17.
This jump was the result of an announcement on Oct. 17 that one of NEOT's wholly owned subsidiaries would merge with Evofem Biosciences.
And if you're searching for the best penny stocks to buy now, we have three biotech penny stocks which have 300%-plus profit potential.
Biotech penny stocks are especially attractive, because they typically have clear catalysts that can send their share prices soaring. Just one positive clinical trial result can cause a company's share price to skyrocket.
For instance, VistaGen Therapeutics Inc. (Nasdaq: VTGN) shot up 177%, from $0.92 to $2.55, on Dec. 6, when it announced it won a patent for its CNS treatment.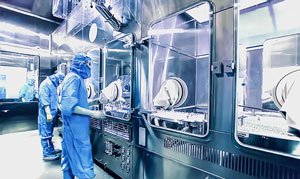 But while biotech penny stocks have massive profit potential, they can also be very risky. Once a biotech stock sees massive gains, there is often a pullback to follow.
Since VTGN surged on Dec. 6, the stock pulled back to $1.23. Investors who bought at $2.55 are sitting on a 51.76% loss today (Jan. 12).
That's why we recommend keeping no more than 2% of your overall portfolio in such risky investments.
However, for investors willing to take the risk, here's the first biotech penny stock with the potential for triple-digit gains in 2018...
Top Penny Stocks to Buy Now, No. 3: BioLine RX Ltd.
BioLine Rx Ltd. (Nasdaq: BLRX) has the cheapest share price of the three stocks on this list.
Currently trading at $1.16 per share, this Israel-based company focuses on developing therapeutics for a range of medical needs, including serious cardiac issues, liver fibrosis, pain management, cancer, and inflammatory bowel disease.
FREE eBook Reveals: The Little-Known Investment That Is 582X Better Than Gold! Click Here
BioLine has developed key partnerships with major pharmaceutical companies, which helps bring its drugs to market faster once they have gained some clinical trial success. Two of its biggest partners are Merck & Co. Inc. (NYSE: MRK) and Novartis AG (NYSE: NVS).
Another benefit that BioLine has over some other biotech companies is that it has a diverse pipeline, meaning that investors aren't betting on just one drug approval for their returns. Currently, it has eight drugs under development and several partnerships to support marketing the drugs once they are approved.
BioLine's primary drug, BL-8040, is currently scheduled for three different phase 2 clinical trials this year. The first trial is for the treatment of pancreatic cancer. Partial data from that trial will be shared at the ASCO Gastrointestinal Cancers Symposium between Jan. 18 and Jane. 20, 2018.
Shares of BLRX are up 36% so far this year and could soar pending the results of the initial trial data.
This next company on this list is developing a drug that could help millions of Americans find some much-needed relief...
Top Penny Stocks to Buy Now, No. 2: Synergy Pharmaceuticals Inc.
Synergy Pharmaceuticals Inc. (Nasdaq: SGYP) is a New York-based company developing treatments for gastrointestinal (GI) disorders.
The company's main drug, Trulance, is designed to treat inflammatory bowel disease and chronic idiopathic constipation (CIC).
One of the reasons to watch Synergy closely is because the company also has Trulance under FDA review for the treatment of irritable bowel syndrome (IBS). IBS is the most commonly treated GI functional disorder, with as many as 25% of adults worldwide suffering.
Spending to control those symptoms, including healthcare costs, is estimated to reach $1.6 billion per year in the United States alone.
The FDA accepted Synergy's New Drug Application (NDA) for Trulance on June 7, and its announcement on approval is scheduled for Jan. 24.
URGENT: Avoid This Common Investing Mistake, and You Could Become Massively Richer in 2018
Even though the company has just one major drug under development, the likelihood of getting FDA approval for Trulance to treat IBS is high. In a prior press release, Synergy reported that 2,100 patients participated in phase 3 of the clinical trial, and the results were in line with the requirements of the FDA.
Shares of SGYP are trading at $2.38, currently up 24% over the past 30 days.
And the last company on our list is leaving the krill oil business to start producing marijuana extracts...