Money Morning Director of Technology & Venture Capital Research Michael A. Robinson wants you to claim your ticket for the California pot stock explosion.
"This is the biggest moneymaking opportunity you'll ever see in your life. I am not exaggerating," the pot stock expert said.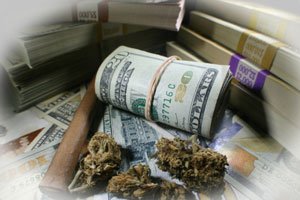 Robinson is exactly right.
Just take a look at Kush Bottles Inc. (OTCMKTS: KSHB)...
The California-based cannabis company provides packaging products for the marijuana industry that include glass jars, pre-rolled tubes, and vaporizer products.
On Jan. 2, 2018, the KSHB stock price opened at $4.10. On Jan. 12, the KSHB stock price closed at $6.55.
That's a profit of 59.7% in just 10 days.
Sign up for SMS so you never miss special events, exclusive offers, and weekly bonus trades.
But if you're worried you missed out on the California marijuana stock explosion, this is actually just the start for pot stocks.
"A lot of my readers think that if they haven't gotten into cannabis investing, they may have missed the boat. But I'm here to tell you this is really the true beginning of one of the biggest market events in history," Robinson said.
Here's why...
The California Pot Stock Explosion Could Create Life-Changing Wealth
According to BDS Analytics/Arcview Market Research, recreational marijuana sales in California are projected to reach $577 million in 2018.
But research firm ICF International estimates revenue from all legal California cannabis sales could eventually reach $20 billion a year.
That's why we're still in the early stages of this potential $20 billion profit opportunity...
Breaking: California Marijuana Legislation Sparks the Most Profitable Opportunity of 2018. Click Here for Details...
"It's the best chance I've ever seen to turn a small amount of money... even just $50 or $100... into thousands, even hundreds of thousands of dollars... in an incredibly short period of time," said Robinson.
"Now of course, gains like these are exceptional... they certainly don't happen every day, and like all investing, nothing is guaranteed...
"...but the potential here is what makes weed investing so exciting," Robinson said.
And thanks to this historic California cannabis legislation, we had to make sure you had the opportunity to access Robinson's presentation on the potential $20 billion market...
Historic Legislation to Create an Unbelievable Moneymaking Opportunity