America and Russia are in an arms race to upgrade their respective nuclear arsenals.
Both world powers are reversing decades of non-proliferation efforts in order to stay one step ahead of each other. Since Moscow began stockpiling warheads in earnest last year, Washington has been readdressing its own cache of nuclear arms.
Now, the public finally has a look - albeit an unintended look - at what the Trump White House has in store to counter the Kremlin's atomic upgrades.
Here's how Washington's nuclear arsenal stacks up against Moscow's - and how you can prepare financially as the two superpowers threaten a second Cold War...
America and Russia Return to Their Cold War Behaviors
Just last Friday, a leaked White House proposal entitled "The Nuclear Posture Review" made headlines, detailing potential plans for increased nuclear armament.
The proposal has been a long time coming.
On Dec. 22, 2016, Russian President Vladimir Putin claimed that Russia must strengthen its nuclear arms in order to handle "any global threats," The Hill reported that day.
Then, on Feb. 14, 2017, Moscow secretly deployed a new cruise missile that American officials said broke a 1987 treaty - the Intermediate-Range Nuclear Forces Treaty - which banned American and Russian intermediate-range missiles based on land.
What's in this book helped one reader make $185k in eight days... With the secrets you'll find in this book, Money Morning subscriber Jamie Newton made a $185,253 profit in just over a week! Click here to learn how you can claim your free copy today.
In response to the Kremlin's rule-breaking last February, U.S. President Donald Trump's administration stated that it would begin reviewing its nuclear policy. On Oct. 11, the president said he wanted the United States to boost its active stockpile to 1960s levels (to roughly 32,000 nukes from the current 4,000 - an eightfold increase). This was reportedly after Trump was shown a chart of the U.S. nuclear arsenal compared to that of Russia.
This chart below shows America and Russia's nuclear weapons caches.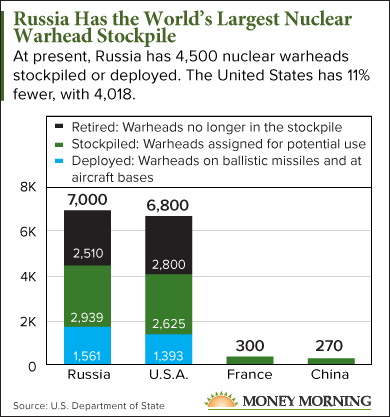 "The Nuclear Posture Review" now provides more shape to President Trump's potential plans...
Specifically, the document notes that Russia and China are modernizing their nuclear arsenals, while North Korea's nuclear provocations "threaten regional and global peace." Therefore, the report claims, the United States must consider expanding its nuclear capabilities at the same time.
One way to do so, the document proposes, is by modifying a small number of existing submarine-launched ballistic missile warheads to provide a nuclear option with a lower payload.
But arguably the most dangerous upgrade posited in the leaked file concerns a particular atomic weapon not used since the Second World War.
Check it out, plus a strategy to play this arms race for a chance at 7,679% gains...