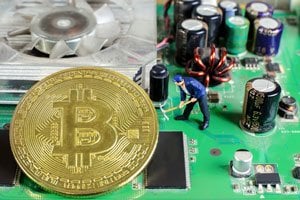 Every investor knows the incredible volatility of Bitcoin and other cryptocurrencies.
Just last month, Bitcoin surged to an all-time high of over $19,000 and then lost $6,000 in value over just seven days. Swings like this gave Bitcoin a volatility rating nearly 13 times higher than the S&P 500 in 2017.
With the potential for total loss, investing in Bitcoin isn't for everybody. After all, there's always the possibility it could go to zero.
Despite the risk, the profit potential is still undeniable. And for people looking for a "safer" way to play cryptocurrencies, there are profit opportunities emerging from the growing industry around Bitcoin mining.
Over the last year, Bitcoin mining has generated a level of enthusiasm exceeded only by the coin itself. You see, Bitcoin "miners" are given bitcoins in exchange for providing the computing power necessary to keep the cryptocurrency network online. Bitcoin essentially reimburses people for the cost of powering its massive digital network.
Learn How to Turn $500 into $1 Million: This Sunday school teacher's "retirement career" made him a millionaire. This book will teach you how you can do it too. Claim your FREE copy...
The chance to acquire whole bitcoins has sent programmers scrambling to set up servers that can "mine" Bitcoin. However, the process is anything but cheap...
Recent estimates put the current cost of mining a single bitcoin between $3,000 and $7,000.
The main culprit for this hefty price tag? Electricity.
Mining bitcoins consumes an incredible amount of power. We're not exaggerating: Current estimates state that global Bitcoin mining consumes as much power as the entire Middle Eastern nation of Qatar.
In an effort to keep costs down, over two-thirds of the world's processing power dedicated to mining Bitcoin comes from China, where electricity is the cheapest.
But that will soon change...
Bitcoin Mining and the Chinese Crackdown
On Jan. 2, 2018, Chinese authorities announced plans to limit the amount of power available to Bitcoin mining operations, setting off a crisis among miners who have been using China's cheap, accessible power grid to keep their costs down.
According to documents released by China's Central Bank, Bitcoin miners in China will be subjected to new regulations that curb power usage in order to "gradually reduce the scale of their production."
This move comes just months after China banned the trading of cryptocurrencies on domestic exchanges. It's the latest sign that the Chinese government plans to bring Bitcoin mining and trading under tight government regulation.
Miners who are increasingly restricted by new Chinese regulations will have limited options to move their exchanges outside of the country. Next to China, there are only a few developed nations with limited Bitcoin regulations and the cheap, abundant power supply necessary to mine Bitcoin.
And the biggest attraction for miners may become the United States...
Bitcoin Mining Is the Next American Gold Rush
For most China-based Bitcoin miners, the most attractive alternative will not be in Europe or South America, but in the United States.
In addition to having cheap and ample power, the United States has almost no restrictions on Bitcoin mining. That allows miners to create the kind of large, sophisticated operations that China seeks to limit.
As a result, several of China's Bitcoin operations are exploring a move to the United States. Among them are industry giants like Bitmain Technologies Ltd., a Beijing-based semiconductor company that runs two of China's largest Bitcoin mining collectives.
And even while other nations crack down on crypto mining, the practice is projected to grow at an unprecedented rate, creating a windfall for the U.S. market...
In fact, analysts predict that the growth of Bitcoin mining could boost its global power consumption by over 300% by the end of 2018.
Thanks to America's favorable climate for Bitcoin, miners will be jumping to establish their operations in the United States over the next year.
And that has created an incredible "pick-and-shovel" opportunity for investors...
Bitcoin Mining: The Pick-and-Shovel Play