U.S. Attorney General Jeff Sessions is committed to giving American small marijuana business owners an edge over larger competitors.
At least, that's what it seems like to us...
You see, Mr. Sessions' anti-marijuana measures only prevent larger, billion-dollar firms from entering the U.S. marijuana industry. As a result, marijuana penny stocks trading on over-the-counter (OTC) exchanges are flourishing.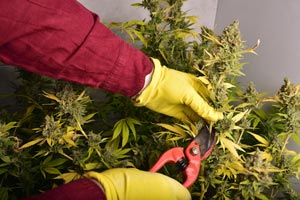 This is because larger companies trade on major exchanges regulated by the SEC and keep their money in institutions insured by the FDIC. Both are federal agencies that can prosecute illegal activity under federal law by seizing assets and delisting stock.
As a result, smaller marijuana companies listed on OTC exchanges can take more risks. They can operate virtually free of competition from more established and better capitalized firms, which means they can grow alongside this new industry.
For instance, one of the biggest marijuana-infused food companies in California started out with just four workers in a kitchen. It now employs 80 people in a 30,000-square-foot facility.
Breaking: California Marijuana Legislation Sparks the Most Profitable Opportunity of 2018. Click Here for Details...
And that's why these first-mover marijuana penny stocks are poised to capitalize on the massive growth ahead for the legal North American pot industry.
BDS Analytics estimates California's recreational cannabis revenue will reach $577 million in 2018.
But according to research firm ICF International, revenue from all legal cannabis sales are estimated to eventually reach $20 billion a year - just in California.
Which means the California marijuana industry alone will grow a staggering 3,366% to reach ICF International's $20 billion estimate.
That's why, today, we're showing you how to profit with three of our top marijuana penny stocks to buy for less than $2. One of them even trades for less than $0.50.
Now, here's the first marijuana penny stock on our list...
Top Marijuana Penny Stocks to Buy, No. 3: InMed Pharmaceuticals Inc.
Canada-based InMed Pharmaceuticals Inc. (OTCPK: IMLFF) is a pre-clinical-stage, cannabis-based drug maker.
The company's lead product, INM-750, is a topical drug for the treatment of patients with epidermolysis bullosa, a genetic condition which causes skin to blister easily from minor friction.
This stock is one of the safer ones on this list for two reasons. First, it's based in Canada, and the Canadian government is expected to fully legalize marijuana in the country in summer 2018.
Second, even if recreational marijuana legalization hits a roadblock in the United States or Canada, demand for cannabis-based drugs will not decrease thanks to widespread acceptance of medical marijuana.
Currently, IMLFF stock trades for $1.39 (Jan. 17).
URGENT: Collect a Colossal Payday Thanks to California's Legal Cannabis - Click Here Now to Learn How to Position Yourself for Windfall Profits
Up next is a U.S. company that's positioned to grow from multiple product channels...
Top Marijuana Penny Stocks to Buy, No. 2: GB Sciences Inc.
GB Sciences Inc. (OTCPK: GBLX) is a Las Vegas-based company that primarily sells equipment to grow cannabis indoors. The company also "intends to produce" marijuana-based drugs.
On the drug production front, GB has a contract research agreement with the University of Seville to develop a THC-free, cannabis-based chronic pain drug.
Video
How Medical Marijuana Could End the U.S. Opiod Crisis
GBLX shares are a bit riskier than IMLFF shares, because GBLX is based in the United States.
But compared to other marijuana penny stocks in the United States, GB Science's broad focus increases the chance that one of its revenue streams will take off.
GBLX stock currently trades at $0.91.
Now, as promised, here's a marijuana penny stock trading for less than $0.50...