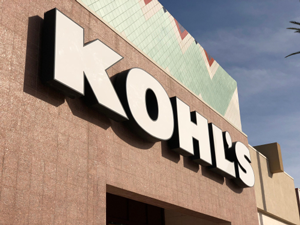 Retail stocks have been on a tear lately, causing investors to question whether the retail sector really is doomed. But that could not be farther from the truth, even for a stock like Kohl's Corp. (NYSE: KSS).
Kohl's stock is up 60% in the last six months, and the company recently surprised analysts by boosting fiscal 2017 guidance from $3.72 to $3.92 to a new range of $4.10 to $4.20.
Despite that rebound, Money Morning Chief Investment Strategist Keith Fitz-Gerald made it crystal clear last week when he offered his top five reasons why the retail sector - and Kohl's in particular - are still kryptonite for your portfolio.
This Book Could Make You a Millionaire: The secrets in this book have produced 42 chances to double, triple, and even quadruple your money this year alone. Claim your free copy...
First, let's take a quick look at why Wall Street suddenly loves retail stocks...
It starts with the fact that the retail industry as a whole is benefiting from stronger consumer confidence, a booming stock market, and better jobs data. And companies in all industries started to feel feistier as they looked forward to lower tax rates.
What investor would not look at their 401K, feel a little richer and a little more likely to buy that new outfit or kitchen appliance they've been putting off?
Kohl's Stock Looks Nice on the Surface, but Don't Be Fooled
Take a look at Kohl's stock price since Nov. 9, the day it announced its third-quarter earnings missed consensus expectations. The stock fell nearly 10% in pre-market trading, and at the time, it was down more than 26% for the year.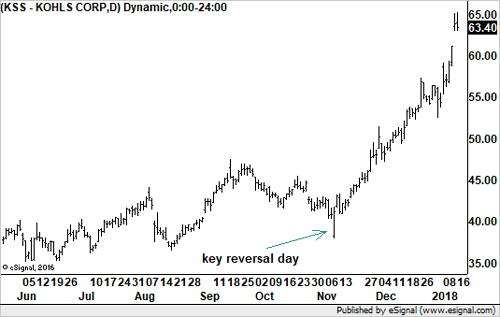 But then, something very important happened. No, it was not the fact that a Wall Street analyst suddenly saw value and upgraded the stock. Rather, the market itself decided it was time for a little fun. Kohl's shares came roaring back and actually closed higher by 0.9%.
Chartists call that a bullish key reversal day, and it means that the market's psyche changed dramatically for the better once the bad news was exposed. And Kohl's shares rallied nearly every day thereafter to log a 54.0% gain from that reversal day through Tuesday's trading.
It's been quite a run, for sure, but it is starting to look tired. That does not mean Johnny-come-lately bulls cannot nudge it a bit higher, but don't be fooled by a short-term awakening.
The retail recovery's days are numbered...
5 Reasons Not to Be Fooled by Short-Term Strength from Kohl's Stock
These are the five reasons Fitz-Gerald says the Kohl's stock rally is short-lived...
Many retailers enjoyed short-term holiday-related rallies. Sales numbers were strong in November and December but two months does not make a trend. It's an anomaly caused the confluence of several one-time events, such as tax reform.
Wall Street has a vested interest in you believing there are companies capable of withstanding the Amazon.com Inc. (Nasdaq: AMZN) juggernaut. From financing its operations for physical plant and inventory costs to providing a conduit for its fancy gift cards, it makes money on all sides. Kohl's attempt to align itself with Amazon was a good try.
"More than 5,000 stores closed in 2017, and 2018's list already includes 3,600 stores, according to Business Insider's analysis," Fitz-Gerald said. You've probably seen them in your local mall or downtown shopping district. Here today, gone tomorrow. And as an aside, if you have any of those gift cards, we recommend you spend them quickly. They won't be worth the plastic they are printed on if the store disappears.
"More than 50 retailers filed for bankruptcy in 2017, and the class of 2018 is already well-formed, according to S&P Global Market Intelligence," Fitz-Gerald said. Even scarier, some companies will go straight to receivership in a move that could ravage unsuspecting investors who get caught unaware.
"Less than 50% of the 1,200 shopping malls in this country are expected to be in business by 2023, a scant five years from now," Fitz-Gerald said. According to the International Institute of Finance, that puts the retail sector on track to lose somewhere in the neighborhood of 110,000 jobs on an annualized basis.
Instead of putting your money into Kohl's stock, we've picked out two of the best stocks to buy today to profit from the death of traditional retail...
Buy These 2 Stocks Instead