Imagine being able to invest in Ford (NYSE: F) just before the release of the Model T.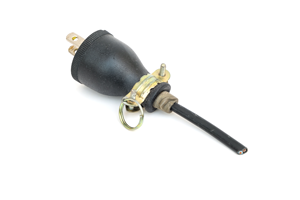 Or in IBM (NYSE: IBM) before the first personal computer became a mass-market device.
Opportunities to invest in game changers like these on the ground floor come but once in a lifetime.
This could be your chance.
What we call NanoCrystal Energy is a new technology that will allow anything equipped with it to run everywhere completely on its own when receiving power. And it could mint you a fortune.
In a nutshell, NanoCrystal Energy will soon allow the world to be completely wire-free. Over 120 years of plugging everything in is about to end.
No more chargers, HDMI cords, aux cables, or cable boxes.
You'll be able to throw away your batteries, say goodbye to unsightly power lines, and never worry about your phone dying ever again.
NanoCrystal Energy technology is going to force a complete overhaul of the world's entire power structure, as it entirely transforms the way we get our electricity.
Marty Cooper, the inventor of the cell phone, has hailed it "The next big thing."
Famed theoretical physicist Stephen Hawking said "It's about to change your life."
This entirely new technology is being built across the globe from the ground up. Starbucks Corp. (Nasdaq: SBUX) has already installed its own version of it. Apple Inc. (Nasdaq: AAPL) is rumored to be secretly equipping its iPhones to be compatible with it. And major airports, like JFK and LAX, have started to implement it, too.
They know this sweep is coming and they want to be ready for it.
And you should be too.
Here's how you can prep your portfolio for this imminent technology revolution...
This Tiny Firm Is About to Have a Sales Bonanza
At the center of this revolution sits one tiny company.
This company is about to go from a relatively unknown player in the field to a household name.
It already has 53 patents and 200 pending to protect its market share.
And a mega-manufacturing firm it's partnered with has distribution sites all over the globe - Tokyo, Seoul, Hong Kong, Singapore, Edinburgh, Athens, Istanbul - and of course, Silicon Valley.
But here's why this company is so attractive right now...
It just signed a $25 million strategic partnership that will allow it to begin distributing its technology worldwide.
"It's about to change your life." - Stephen Hawking
The scientific community is absolutely ecstatic over this new technology.  In fact, this company just took home the highly prestigious Gold Edison Award - joining the likes of NVIDIA Corp. (Nasdaq: NVDA) and Tesla Inc. (Nasdaq: TSLA).
"This company is leading the way," the judges said.
"To say this tiny Silicon Valley company is in the driver's seat would be an understatement of epic proportions," said Money Morning Director of Technology & Venture Capital Research Michael A. Robinson. "This opportunity is pure ground floor."
Michael Robinson is a 35-year Silicon Valley veteran with a long track record of uncovering truly radical technologies.
His work as a consultant, senior advisor, and board member for top Silicon Valley venture capital firms has placed him at the center of several major innovations including robotics used to revolutionize the auto industry... the $160 billion a year "cloud computing" industry... and the latest cyber military technologies.
So he knows an outstanding opportunity - like this one - when he sees it.
Buying this company's stock could be like buying NVIDIA before its 85x run-up... or Tesla before its 20x leap...
In fact, it could be even bigger than that. This stock could pay out up to 78 times your money.
That's right - 78 times.  And not over the next decade, either. We're talking about returns over the next two to three years.
That's like turning a $100 investment into $7,800...
A $5,000 investment into $390,000...
And a $10,000 investment into $780,000!
But even if it doesn't rocket that high, a mere fraction of that would be life-changing.
And it doesn't matter how much you put in, if you choose to invest. What matters is that you get in early.
Click here for our short presentation, where we'll tell you everything you need to know...
Follow Money Morning on Twitter @moneymorning, Facebook, and LinkedIn.