Pennsylvania will officially legalize the sale of medical marijuana this spring, in what's sure to be a huge catalyst for the Quaker State's economy and the marijuana industry at large.
Pennsylvania will be joining its neighbors – New York, Maryland, West Virginia, and New Jersey – as the latest East Coast state to legalize medical sales.
With a population of nearly 13 million people, it will likely be one of the largest medical marijuana states in the country.
And even though the state's medical marijuana program isn't expected to launch for another few months, patients and physicians alike are already gearing up for massive demand.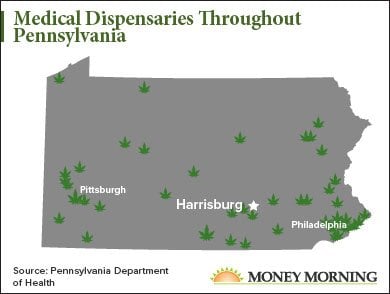 To date, Pennsylvania's Department of Health has already issued 27 dispensary licenses and 12 grower and processor licenses (as displayed on the chart above). What's more, several of the 27 current dispensary license holders have chosen to open up to three other locations months ahead of schedule. After the launch, over 150 dispensaries are expected to open their doors throughout the state.
Both patients and doctors are registering for the legal marijuana program in unprecedented numbers ahead of the program launch. "The state's medical marijuana market is processing ahead of schedule – a rarity in the cannabis industry," reported Marijuana Business Daily on Jan. 15.
You see, the state has created an extensive list of 17 conditions that can be treated with medical marijuana. According to the state's Department of Health, about 1 million Pennsylvanians may qualify for medical cannabis under this list of conditions.
And about 200,000 of them, or one-fifth, will be seeking medical marijuana as a remedy for chronic pain and as an alternative to traditional painkillers and opiates.
Top Three California Pot Stocks to Watch for the Biggest Gains – Learn How to Cash In Here
"There's an opioid epidemic going on out there," said Jay Mergaman, an anesthesiologist and pain management specialist who practices in Lansdale and Huntington Valley, Pa., to The Morning Call on Nov. 9, 2017. "I'm hoping medical marijuana will help my patients wean more quickly off those drugs."
Make no mistake: Medical marijuana can and will be the solution for the millions of suffering Americans, especially as more states like Pennsylvania legalize it to treat pain.
We've identified one company in particular that is leading the medical marijuana revolution – and you can invest in it.
Here's how…
This Company Is Changing the Way Americans Treat Pain
GW Pharmaceuticals Inc. (NYSE: GWPH) – a British biopharmaceutical company and the first to gain market approval for a cannabis plant derivative – is a leader in the medical marijuana space.
GW Pharma has been cultivating strains of marijuana plants with an eye to increasing concentrations of two key ingredients with major healing properties: CBD and THC.
And it's way ahead of its competitors.
"Its research has been fruitful, showing incredible promise," says Money Morning Director of Technology & Venture Capital Research – and renowned pot stock expert – Michael Robinson.
In fact, he sees opportunities to realize 1,000% gains from this company alone.
After all, its newest drug is about to dramatically change the lives of the 3 million epilepsy sufferers in the United States. The drug is called Epidiolex, and it has been quickly moving through clinical trials.
"In fact, Epidiolex's U.S. trials are already wrapped up, and GW plans to file for U.S. Food and Drug Administration approval soon," says Michael.
Epidiolex could be on the market just months after filing for FDA approval. Following approval, GW Pharma will have exclusive sales rights to the drug for seven years in the United States and 10 years in Europe.
"Those will be very profitable years," said Michael. "Once the medical community sees how compounds such as CBD, CBDV, and THC deliver much better results than existing treatments, GW Pharma and other cannabis-focused stocks will be no longer be seen as outliers; they'll be must-own stocks and essential earners in savvy investors' portfolios," Michael added.
GW Pharma was a fixture in Michael's 2016 Roadmap to Marijuana Millions legal cannabis portfolio.
Those who got their copy of Roadmap and got in early have already seen peak gains of more than 65% from GW, in addition to 10 double-digit winners and eight triple-digit winners from other marijuana stock recommendations.
Michael's last round of marijuana stock trades was so successful, he couldn't pass up doing it again now that California has fully legalized.
In this crucial interview with Michael, you can learn the ins and outs of California's marijuana markets and get details on three tiny pot stocks expected to hand you the biggest gains.
Follow Money Morning on Twitter @moneymorning, Facebook, and LinkedIn.