Drill, baby, drill.
West Texas Intermediate crude oil just climbed above $65 a barrel for the first time in more than three years yesterday (Jan. 24).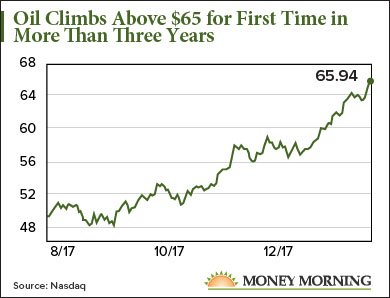 Oil companies and investors alike are in great spirits, because this means oil just reached a "breakeven point" for drillers, at which extracting oil becomes profitable for most companies.
Oil prices have taken a dive in the past few years, hitting their lowest price in over a decade in February 2016, as cheaper U.S. shale oil flooded the market. According to The Wall Street Journal, many major companies have been forced to roll back investments and spending on new wells.
But after OPEC and its allies voted to slash production in order to boost demand in November of last year, prices have been on the rise.
And now that the breakeven benchmark has been passed, this trend is expected to continue…
The Future for Oil Prices
Money Morning Global Energy Strategist – and oil expert – Dr. Kent Moors sees oil prices heading even higher from here.
"Oil's impressive run in 2018 is far from over. In fact, this spike is only the beginning," he told readers on Jan. 7.
"Some major profit opportunities are ahead for investors."
Dr. Moors is an expert in oil and gas policy and emerging market development.
He's highly respected in this industry and has made over 2,100 appearances on networks like CNBC, CNN, and Bloomberg during his 40-year career.
That's because he knows about developments in the energy market before they happen.
How? Because he serves as an energy advisor to 29 world governments, including the United States, Russia, China, Iraq, Australia, and Kazakhstan. He's advised every major agency of the federal government on energy issues… not to mention numerous U.S. states and governors.
And as a consultant to six out of the world's top 10 energy producers, Dr. Moors' travels frequently land him behind the scenes, on the inside.
So when Dr. Moors makes an oil price prediction, we listen.
But it's his latest energy prediction that has us more excited than ever. Read on…