When Bitcoin prices plummeted 23% on Jan. 16, 2018, investors poured back into the best store of value on the planet - gold. Precious metal dealer CoinInvest sold $1.2 million in gold while crypto prices dipped.
And we weren't surprised...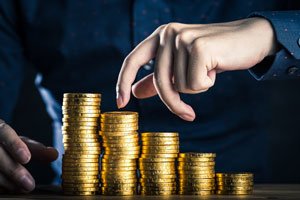 Look, everyone knows gold is one of the best investments you can make during times of economic uncertainty. It's so valuable because there's only a finite amount, it has industrial uses, and it's been valued as a currency for thousands of years.
That's why crypto investors flooded over a million dollars into gold as crypto prices crashed on Jan. 16.
And while cryptocurrencies are the latest fashion for investors trying to make a quick buck, gold could be one of the greatest wealth creators we've ever seen...
The first step on your road to millions starts here: All you need is a computer or smartphone and just 10 minutes of "work" to potentially put $1 million in your bank account faster than you ever dreamed. Read more…
You see, gold has what it takes to blow past the $1,400 mark this year. That's not in question.
But Money Morning Director of Research Matt Warder believes it could go much, much higher – all the way to $3,000 in 2018, in fact.
He's tracking 10 global developments that could push the yellow metal to untold heights, kicking off a truly unprecedented gold bull market.
The catalysts that could pave the way for gold prices to skyrocket this year are outlined in detail in this special report: 10 Reasons Why Gold Could Go to $3,000 in 2018.
Click here to access the report.
Up Next: Learn How You Could Turn a Small Stake into $31,000 in Just 10 Weeks
Dozens of S&P 500 companies will be making major announcements over the next several weeks that could send shockwaves throughout the market, setting off massive potential price jumps.
Knowing how to get in two full days ahead of the biggest, most promising share-price potential gains is an advantage that's never been available – until now.
Quantitative Specialist Chris Johnson has developed a tool that gives 48-hour advance notice of these kinds of price eruptions – with 100% certainty.
His recommendations this year are off to an incredible start – like 153.59% on FCAU on Jan. 8…
56.70% on ADBE on Jan. 8… 102.78% on OZRK on Jan. 11…
…and then an additional 276.47% on FCAU on Jan. 12. That's 589.63% total winning moves in just five days!
Right now, Chris is tracking dozens more opportunities that could help you trade your way to some serious cash – fast.
In fact, with just a small stake, you could see as much as $31,000 in just 10 weeks.
Go here now to see how this works…
Follow Money Morning on Twitter, Facebook, and LinkedIn.