Gold prices are nearing a two-year high, and I didn't think that would be possible this early in 2018...
But the key driver of rising gold prices continues to be the sinking dollar, and the Trump administration's mixed signals on the dollar are helping push it down.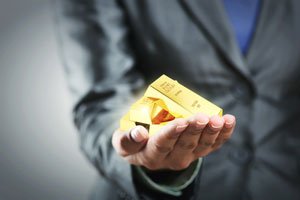 Here's what I mean...
The U.S. Dollar Index (DXY) fell down to 90 on Tuesday, just before U.S. Treasury Secretary Steven Mnuchin spoke the truth to a crowd at Davos: The administration wants a weaker dollar.
"Obviously a weaker dollar is good for us as it relates to trade and opportunities," Mnuchin said at Davos.
While Mnuchin's comment was an "open secret" - a weaker dollar is better for American exports - traders still reacted with shock.
The DXY dropped a full point down to 89 by the end of Wednesday, while the price of gold jumped 2.4% between Monday and Thursday.
But the next day, U.S. President Donald Trump, who had previously supported a weaker dollar, told CNBC that, "The dollar is going to get stronger and stronger and ultimately I want to see a strong dollar," adding that the treasury secretary's statements had been misconstrued.
That put a lid on gold prices and kept them from reaching their two-year high.
But gold testing record-high levels is an excellent sign going forward.
Here's what else moved gold prices last week, plus my 2018 gold price target...
A Weakening Dollar Is Gold's Best Friend
After ending the previous week at a very respectable $1,330 per ounce, the price of gold tested breakout levels.
On Monday (Jan. 22), gold prices rose as the DXY consolidated. The DXY hovered around 90.50, while the gold price was equally unexciting, moving from $1,332 at the open to $1,333 at the close.
Tuesday (Jan. 23) brought some new price action, as the DXY began trending lower once again.  By midday, the DXY had worked its way down to 90.20, and gold rose from its $1,336 open to a substantial $1,340.
It only takes 10 minutes a week to double your way to $1 million: This strategy doesn't require any special training – yet it could potentially put $1 million in your bank account faster and easier than you ever dreamed…
But Mnuchin's comments on Wednesday (Jan. 24) led to a dollar sell-off. The DXY went from 90 in the early morning to 89.2 by 5:00 p.m., losing a stunning 80 basis points in one day. That kicked gold prices higher, causing gold to open all the way up at $1,352 and then to climb to $1,358 to end New York's trading day.
Here's just how dramatically the Trump administration's dollar policy confusion affected the DXY last week...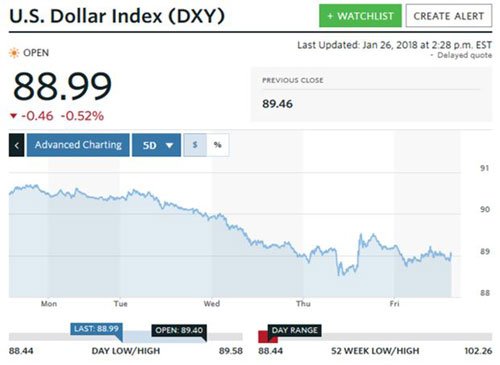 But Trump's about-face on the dollar on Thursday (Jan. 25) bolstered the greenback and dented gold. You can see the effect of his comments in the DXY chart, which pops from 88.60 to 89.50 within a couple of hours.
Naturally, gold sank from $1,362 to $1,347. The "test" of $1,365 was done for now, with more time needed before breaking above that level in a definitive way.
The dollar would also weaken slightly to consolidate around 89 on Friday (Jan. 26). That allowed gold to open at $1,350, a level it seemed stuck at by late afternoon, as it neared the end of the trading week.
But make no mistake, these are bullish trends for gold prices in 2018. Here's where I see gold prices heading next...
My Next Target for Gold Prices in 2018
Join the conversation. Click here to jump to comments…
About the Author
Peter Krauth is the Resource Specialist for Money Map Press and has contributed some of the most popular and highly regarded investing articles on Money Morning. Peter is headquartered in resource-rich Canada, but he travels around the world to dig up the very best profit opportunity, whether it's in gold, silver, oil, coal, or even potash.