Editor's Note: 10 Reasons Why Gold Could Hit $3,000 in 2018
The price of silver today (Tuesday, Jan. 30) is up 0.76% to $17.40 in morning trading. And I see plenty of bullish momentum ahead for silver prices in 2018.
After exploding higher last week, the price of silver returned to mild consolidation mode on a mild dollar bounceback.
The recent pullback has been "mild" because the U.S. Dollar Index (DXY) is still below 90, having dropped by 12% over the past year. While the dollar could bounce a bit higher from here, its overall trend remains downward.
But silver is still in the very early innings of a return to bull market action, and one that's sure to see the precious metal's price soar to unimaginable levels.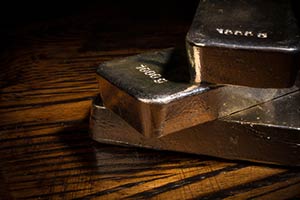 You see, silver's exiting one of its longest-ever bear markets and is readying to challenge recent highs before pushing to even higher price levels.
This will help confirm silver's new bull, drawing many new investors into the fold as they finally conclude it's the real deal.
Let's have a closer look at silver's recent action, then we can examine what's next for silver prices in 2018…
Trending: Why the Price of Silver Today Is Rallying
On Monday, Jan. 22, silver was still below $17, at $16.98, at 5:00 p.m. in New York.
Tuesday would produce a little more midday weakness in the metal's price, as the DXY bounced back to 90.50 in early morning trading. Silver opened at $16.94, dipped to $16.79 by 10:00 a.m., then recovered all that and more to close at $17.04 as the DXY had retreated to 90.10.
BREAKING: Executive Editor Bill Patalon just saw something on his precious metals charts he's only seen twice in 20 years. He calls it the "Halley's Comet of investing" – and it could lead to windfall profits. Read more…
The dollar saw considerable follow-through selling on Wednesday, stoked by U.S. Treasury Secretary Steven Mnuchin's Davos comments that a weaker dollar would be of considerable benefit to the U.S. economy. That helped silver prices run higher, opening at $17.27 and climbing to $17.54 by the close, when the DXY had tanked from 90 to 89.20.
Thursday was marked by the Trump reversal, as he insisted Mnuchin's comments were taken out of context. Trump said he wants a stronger dollar to prevail. Well, both the dollar and silver reversed Wednesday's action. Silver opened Thursday at $17.46 yet closed at $17.25, while the dollar spent the morning near 88.5 then popped to 89.5 on Trump's words.
Here's a look at the dollar action of the past week.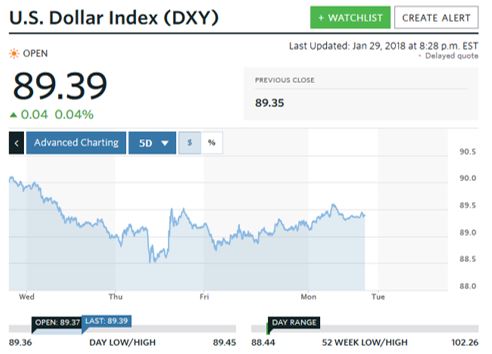 The dollar then sold off overnight Thursday into Friday, backing off to 89 by 8:00 a.m. That helped silver bounce back slightly, as it opened at $17.33 and tacked on $0.05 to close at $17.38.
But Monday saw the oversold dollar bounce back even further, hitting 89.55 by noon. As a result, silver opened lower at $17.23, then lost a further $0.10 to eventually close at $17.13.
While silver's action was far from inspiring last week, there are numerous indicators that point to a continued silver price rally in 2018…
Here's Why I'm So Bullish on Silver Prices in 2018
Join the conversation. Click here to jump to comments…
About the Author
Peter Krauth is the Resource Specialist for Money Map Press and has contributed some of the most popular and highly regarded investing articles on Money Morning. Peter is headquartered in resource-rich Canada, but he travels around the world to dig up the very best profit opportunity, whether it's in gold, silver, oil, coal, or even potash.