Despite U.S. Attorney General Jeff Session's tough stance on cannabis, the California marijuana market is only going to grow, and it could reach $20 billion a year in legal sales.
On Jan. 4, Sessions ended an Obama-era Department of Justice cannabis policy that prevented federal prosecutors from making marijuana cases in states where cannabis is legal.
But his new policy simply leaves prosecution up to individual U.S. attorneys.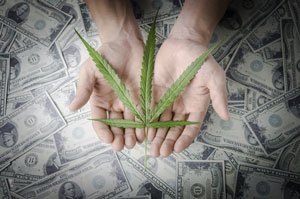 And with 29 states and the District of Columbia legalizing medical marijuana, it's unlikely U.S. attorneys are going to waste time, money, and resources fighting the will of the people.
In fact, cannabis entrepreneurs in legal states simply aren't fazed by Sessions.
"It is my belief that state leaders on both sides of the aisle will work aggressively to protect states' rights, and that America's fastest-growing industry (cannabis) will continue to thrive in spite of this nonsensical action," Krista Whitley, CEO of Altitude Products, a Las Vegas-based conglomerate of cannabis companies, said.
That's why we told our readers on Jan. 4 not to panic as the prices of marijuana stocks dropped...
For example, the Cannabis Sativa Inc. (OTCMKTS: CBDS) stock price dropped 19.30% that day, from $9.10 to $7.40 per share.
However, investors have still netted triple-digit profits since October 2017...
CBDS traded at a 52-week low of $2.61 per share on Oct. 27, 2017. From today's opening price of $6.07, that's still a profit of 132% in just three months.
Investing in pot stocks is a long play, which is why any dip like the 19% drop we saw on Jan. 4 is actually a buying opportunity.
Top Three California Pot Stocks to Watch for the Biggest Gains - Learn How to Cash In Here
Now, there's no denying there will be bumps in the road for pot stock investors, like we saw on Jan. 4 with Sessions rescinding the Cole Memo.
Stock prices never just go straight up.
If they did, everyone would get rich.
That's why having a pot stock expert like Michael Robinson at your disposal separates Money Morning readers from everyone else...
Thanks to his previous marijuana stock reports, some Members have returns of 816.7%... 766%... 417.6% ... 214%... and five more triple-digit winners.
Now, Robinson has to keep the biggest opportunities reserved for his Nova-X Report readers.
It's only fair.
But we had to make sure Money Morning readers were given the opportunity to learn more about three pot stocks that could turn a small stake into millions...