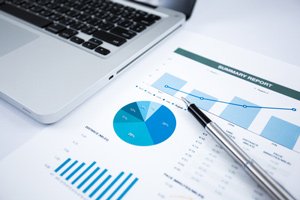 To most investors, the word "volatility" is terrifying. But to Money Morning Quantitative Specialist Chris Johnson, volatility paves the path to fast profits, especially around earnings season.
That's why we're bringing you an earnings trade today that could double your money in February...
Volatility provides the background for some of the best trades you can make. Triple-digit gains are the norm, not the exception.
You see, Johnson calls earnings season "a trader's dream."
According to Chris, if you can find a stock that's moving fast, aggressively, and in the right direction, then the market will provide the rest. And earnings season is the best time to find these opportunities.
Breaking: Chris showed his paid-up subscribers 589.63% in total winning moves, closed over just five days in January. And he's offering a stunning performance guarantee for those who get in now. Click here for details...
You don't have to worry too much about the speed and aggressiveness of a stock's movements this time of year. In fact, the higher the general levels of volatility, the better, as that sets stocks in quick motion.
But you do have to get the direction right, and that is where Johnson's stable of indicators comes in.
Most of the picks exploit human nature in the field of sentiment analysis. Basically, Chris looks for situations where "everyone" thinks a stock is going to do one thing, but the stock does exactly the opposite.
The first indicator is short interest, which measures how much of a stock's outstanding shares have been sold short. The most exciting part happens when a stock's short interest gets to be very high. Any little bullish trigger will set off a stampede of buying, as short sellers scramble to buy back the shares they sold.
This causes stock prices to soar in a "short squeeze."
The next thing Chris analyzes is analyst rankings. Taking into account that Wall Street is usually overly bullish on everything, seeing that the "hold' and "sell" recommendations are unusually high tells him that a positive earnings surprise can catch the Street off guard - and on the wrong side of the market.
The same is true for when almost all analysts are bullish with "buy" and "strong buy" ratings. Everyone is already on board with the bullish case, and that sets the stock up for a fall on any bad news.
Finally, price action is the final judge on any stock's health, so Johnson wants to know where it is compared to its 50-day moving average. If the stock trades above the average, then he is bullish, especially if the stock is in a small pullback to touch the average from above.
Fortunately for Money Morning Members, Chris has done the work for you...
In fact, he's just pinpointed one trade that could return 100% profits in February.
Here's the earnings trade...
This Earnings Trade Could Double Your Money in Mere Weeks