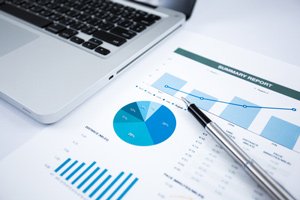 To most investors, the word "volatility" is terrifying. But to Money Morning Quantitative Specialist Chris Johnson, volatility paves the path to fast profits, especially around earnings season.
That's why we're bringing you an earnings trade today that could double your money in February...
Volatility provides the background for some of the best trades you can make. Triple-digit gains are the norm, not the exception.
You see, Johnson calls earnings season "a trader's dream."
According to Chris, if you can find a stock that's moving fast, aggressively, and in the right direction, then the market will provide the rest. And earnings season is the best time to find these opportunities.
Breaking: Chris showed his paid-up subscribers 589.63% in total winning moves, closed over just five days in January. And he's offering a stunning performance guarantee for those who get in now. Click here for details...
You don't have to worry too much about the speed and aggressiveness of a stock's movements this time of year. In fact, the higher the general levels of volatility, the better, as that sets stocks in quick motion.
But you do have to get the direction right, and that is where Johnson's stable of indicators comes in.
Most of the picks exploit human nature in the field of sentiment analysis. Basically, Chris looks for situations where "everyone" thinks a stock is going to do one thing, but the stock does exactly the opposite.
The first indicator is short interest, which measures how much of a stock's outstanding shares have been sold short. The most exciting part happens when a stock's short interest gets to be very high. Any little bullish trigger will set off a stampede of buying, as short sellers scramble to buy back the shares they sold.
This causes stock prices to soar in a "short squeeze."
The next thing Chris analyzes is analyst rankings. Taking into account that Wall Street is usually overly bullish on everything, seeing that the "hold' and "sell" recommendations are unusually high tells him that a positive earnings surprise can catch the Street off guard - and on the wrong side of the market.
The same is true for when almost all analysts are bullish with "buy" and "strong buy" ratings. Everyone is already on board with the bullish case, and that sets the stock up for a fall on any bad news.
Finally, price action is the final judge on any stock's health, so Johnson wants to know where it is compared to its 50-day moving average. If the stock trades above the average, then he is bullish, especially if the stock is in a small pullback to touch the average from above.
Fortunately for Money Morning Members, Chris has done the work for you...
In fact, he's just pinpointed one trade that could return 100% profits in February.
Here's the earnings trade...
This Earnings Trade Could Double Your Money in Mere Weeks
[mmpazkzone name="in-story" network="9794" site="307044" id="137008" type="4"]
There is nothing like a boring stock heading into earnings. Drug giant Bristol-Myers Squibb Co. stock (NYSE: BMY) has gone nowhere since October despite a rip-roaring rally in the rest of the market.
That's bearish on its own, but there's more...
Stocks that sit in place for months at a time show great uncertainty. Neither bulls nor bears are willing to take a big stand as the stock waits for any spark to finally release all the energy pent up in a sideways - boring - trading pattern.
Wall Street analysts are equally unimpressed. Half of the covering analysts rate the stock as a "hold," with a bunch calling it a "buy," as Wall Street almost has to do. As a group, they are somewhat bullish.
Finally, short interest is low, so there is no short-squeeze potential. Therefore, heading into its Feb. 5, 2018, earnings report, this stock is set up for the bears. Johnson suggests playing the Feb. 16 $63 put.
BMY may be boring now, but come Feb. 5, that is likely to change in a big way.
And that's not the only massive profit opportunity Chris is targeting right now...
Learn How You Could Turn a Small Stake into $31,000 in Just 10 Weeks
Dozens of S&P 500 companies will be making major announcements over the next several weeks that could send shockwaves throughout the market, setting off massive potential price jumps.
Knowing how to get in two full days ahead of the biggest, most promising share price potential gains is an advantage that's never been available - until now.
Chris Johnson has developed a tool that gives 48-hour advance notice of these kinds of price eruptions - with 100% certainty.
His recommendations this year are off to an incredible start - like 153.59% on FCAU on Jan. 8... 56.70% on ADBE on Jan. 8... 102.78% on OZRK on Jan. 11...
...and then an additional 276.47% on FCAU on Jan. 12. That's 589.63% total winning moves in just five days!
Right now, Chris is tracking dozens more opportunities that could help you trade your way to some serious cash - fast.
In fact, with just a small stake, you could see as much as $31,000 in just 10 weeks.
Go here now to see how this works...
Follow Money Morning on Twitter @moneymorning, Facebook, and LinkedIn.