Industry analysts at Cybersecurity Ventures expect cybercrime damages to reach $6 trillion annually by 2021. And that means increased spending on cybersecurity, which is a boon for the best cybersecurity stock to buy.
Cybercrime is bad news, yes. But as Money Morning Chief Investment Strategist Keith Fitz-Gerald says, war, terrorism, and ugliness are Unstoppable Trends. And cybercrime - identity theft, hacking, ransomware, compromised files, and more - is, unfortunately, ugliness at its finest.
Cybersecurity Ventures predicts that the total damages from just ransomware will soar 130% this year alone. Last year, total damages attributed to ransomware reached $5 billion. By the end of this year, it's expected to reach $11.5 billion.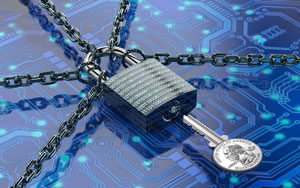 This level of damage means that organizations and individuals are going to significantly ramp up spending on cybersecurity.
Last year, cybersecurity spending was estimated at over $86 billion, according to Gartner Inc.
By 2021, it should exceed $1 trillion. That would represent an astounding 1,057% increase in cybersecurity spending in just four years.
All organizations and individuals will be affected by cybercrime. And companies offering cybersecurity services will be the main beneficiaries of this industry's growth.
In 2017, several cybersecurity companies turned in stellar performances. But their run is just getting started.
For example, VeriSign Inc. (Nasdaq: VRSN) climbed an impressive 48%, from $77.31 to $114.44.
We'll show you the best cybersecurity stock to buy in a minute, but first, let's take a closer look at what's driving cybersecurity spending...
Cybersecurity Spending Is Expected to Skyrocket
During the first six months of 2017, 1.9 billion data records suffered security breaches. In 2013, 575 million did. That's a 230% climb.
Last year, some of the United States' most prominent companies reported breaches of their data. InterContinental Hotels Group Plc. (NYSE: IHG), Microsoft Corp. (Nasdaq: MSFT), Verizon Communications Inc. (NYSE: VZ), The Dun & Bradstreet Corp. (NYSE: DNB), Blue Cross Blue Shield Association, Saks Fifth Avenue, Uber, and Equifax Inc. (NYSE: EFX) have all been victims of security breaches.
Silicon Valley Breakthrough: This tiny company's revolutionary new device is expected to "change the world on a scale hardly seen in human history." It could hand early investors a $78,000 windfall in the process. Here's how to get in...
Equifax's was one of the biggest breaches in U.S. history. More than 143 million Americans had their personal information breached - names, birth dates, addresses, and Social Security numbers - greatly increasing the possibility of identity theft.
Identity theft opens an individual to complete loss of financial and personal security. It can drain bank accounts and lower credit scores and be incredibly difficult and expensive to fight.
The company responsible has also lost the confidence of customers and is having legal claims brought against them.
As a result of that loss of confidence, companies need to spend to boost their cybersecurity measures.
Breach Level Index indicates that identity theft by itself represented 73% of all breaches in data last year. In 2016, it made up 62.6% of all breaches, so 2017's figures represented a 16.7% increase.
But our top cybersecurity pick has climbed a walloping 42% last year and is poised to rise another 100% over the next two years...
The Best Cybersecurity Stock to Buy for 2018
[mmpazkzone name="in-story" network="9794" site="307044" id="137008" type="4"]
Raytheon Co. (NYSE: RTN) is a defense giant and one of the best companies in the cybersecurity field.
Its biggest client is the largest employer on the globe, which has more assets than any other company or organization: the U.S. government.
RTN's cybersecurity division is called Forcepoint.
Forcepoint's revenue increased roughly 72.6% from 2015 to 2016, rising to $566 million from $328 million. Now, that's a relatively small proportion of RTN's total 2016 yearly revenue of $24 billion.
But on the other hand, the rate of growth at Forcepoint is almost five times higher than the 15% yearly growth rate anticipated for the cybersecurity industry as a whole through 2021.
Last summer, the U.S. Department of Homeland Security reaffirmed a Raytheon contract worth $1 billion. The contract means that Raytheon is responsible for protecting the data from an extensive number of federal agencies.
Forcepoint grew from more than 12 of RTN's different cybersecurity acquisitions over the past decade.
In early 2017, for example, Forcepoint bought Skyfence, a provider of Internet cloud security. It was a valuable addition to Raytheon's cybersecurity services, which at that point already covered insider threats, analytics, and firewall applications.
CEO Matt Moynahan plans to continue expanding the company's cybersecurity business. He said Raytheon will soon break ground on using artificial intelligence to analyze behavior to pinpoint possible threats by predicting and understanding intent and actions.
In early December 2017, RTN announced that it was entering a partnership with Pivotal Software Inc. The two companies will help the Department of Defense as its legacy applications are migrated to the cloud.
RTN shares currently sell for $209.70, up 13.35% in January 2018 alone. The company also offers investors a 1.53% dividend yield.
We believe RTN's cybersecurity division will continue to grow 72% year over year. By 2023, if it does, it will be one of the company's top-selling divisions.
Over the past decade, RTN has also aggressively bought back its stock, shrinking the number of shares outstanding by 30%. The buybacks are one of the reasons RTN shares have skyrocketed over 232% in the last five years.
Also, RTN's dividend payout ratio was 41.5% in 2017, a very low rate. That means our best cybersecurity stock has ample money to finance its growth and continue growing its dividend going forward.
2018 Resolution No. 1: Own the Night... Are you ready to learn how to grow your money by 50%, 75%, or 125% every single day? Experience the power of night trading in 2018, and you could wake up to an extra $750, $1,500, or even $5,700 by the time you check your account the next day. Click here to learn how to get started.
Follow Money Morning on Twitter @moneymorning, Facebook, and LinkedIn.