It's become fashionable of late to doubt the bull market in some of technology's biggest and most successful stocks. Don't become part of that crowd. This rally is far from over, and naysayers are going to be left out in the cold watching Silicon Valley stocks go up without them.
And one stock in particular we're bullish on today is Apple Inc. (Nasdaq: AAPL). In fact, we've just released a brand-new Apple stock price target, which we'll show you in just a minute.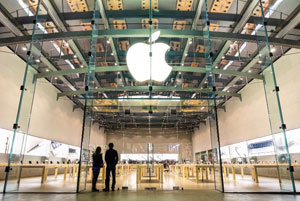 You see, the new doubt on Wall Street is actually good news for Money Morning readers. It is just the skepticism behind the proverbial "wall of worry" that the stock market loves to climb.
"It all starts with the tsunami of cash headed toward our shores," said Money Morning Director of Technology & Venture Capital Research Michael A. Robinson.
In December, the new tax law slashed the corporate tax rate and (more importantly) cut the tax rate on profits made overseas and brought back home to the United States. This has the potential to flood domestic coffers with hundreds of billions of dollars.
Robinson's research shows that 11 of the top 16 firms that will repatriate foreign cash are in high tech or healthcare. And the No. 1 winner here will be Apple.
Right now, Apple has a stash of more than $250 billion buried overseas. Why? Because the old tax structure here at home provided an incentive to Apple and all companies to keep their money there. The tax burden was just too big.
But now, new tax rules will lower the company's effective tax rate on its U.S. earnings while allowing it to repatriate some of its massive international cash holdings at a steep discount to previous rules. Apple would only face a 15.5% tax burden on all the cash returning to the United States, compared to a previous repatriation tax rate of roughly 40%.
That's a savings of nearly $29 billion. And don't forget, it will finally have the use of the rest of that war chest, which should be about $211 billion.
Critical: A tiny company's revolutionary device has just been approved by the FCC - and even a small stake could reward you with astronomical gains. Find out how to take advantage of this ground-floor profit opportunity...
Imagine what this one company could do with a windfall of that size. Pay down debt? Return money to shareholders? Beef up R&D to develop new products? Acquire a new technology by buying another company?
Acquisitions seem less likely at this time, but the company is already committing $30 billion to its R&D over the next five years. And that is on top of the $12 billion it already spends here.
And there's good news elsewhere too, as the company could hire as many as 20,000 people here at home. And it will help its suppliers develop and manufacture more of the component parts Apple uses in the United States, as well.
Add in share buybacks to the tune of $125 to $150 billion on top of any other buyback and dividend plans it already had, according to Loup Capital. It could reduce the number of outstanding shares by 13%. That means 13% more profits for remaining shares.
In other words, investors could see benefits up to $450 billion over the next five years.
Which leads Michael to this bold new Apple stock price prediction...
Apple Stock Price Target: Here's Exactly Where We See Shares Heading