Karl Marx may have been dead wrong about communism, but by George he was right about capitalism: It's brutal.
There are winners and losers, and the only "participation trophy" is raw survival.
Own a business, and you can - and probably will - be blindsided by unanticipated developments that turn your mighty, profitable enterprise into a smoldering pile of ash.
Consider a buggy whip manufacturer around the turn of the 20th century.
This guy had a great business; everyone needed his product to get horses to pull the buggies along, and he made a handsome living.
Of course, a decade or so later, our hypothetical captain of horse-motivating industry had no business, because, heaven knows, you don't need a buggy whip to get your fancy newfangled car to go.
Mark my words: As of today - Sunday, Feb. 4, 2018 - the pharmaceutical and healthcare industries - and everyone that owns a piece of them - look a lot like the buggy whip manufacturers of 1901.
Here's what I mean...[mmpazkzone name="in-story" network="9794" site="307044" id="137008" type="4"]
The Profit Motive Could End Up Saving the World
For all its brutality, capitalism, that ever-reviled, greedy drive for profits, is the source of virtually all the improvements in our lives since the dawn of time.
The car and the airplane were not invented and perfected for charitable reasons. It was about taming money.
An Incredible Win Rate: Since April 28, Shah Gilani's Zenith Trading Circle subscribers have had the opportunity to make average gains of 44% per day (including partial closeouts) on his recommendations. His win record is insane (in a good way). You've got to check this out - just click here.
All those kids slinging around circuit boards and computer chips in garages are driven as much by the possibility of big, Silicon Valley "unicorn money" as they are by intellectual curiosity.
Most of the new miracle drugs we enjoy are brought to market because someone expects to make big money from them.
At the heart of the capitalist system is a simple truth: "If I can make and sell stuff that makes your life better, I will make money that makes my life better."
Right now, we all need, to one degree or another, Big Pharma and health insurance to make our lives better.
Business is pretty good right now.
The big drug companies reported huge profits for 2017, and all of them expect to put up bigger numbers in 2018 thanks to tax reform and the "graying of America" phenomenon.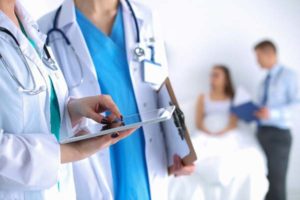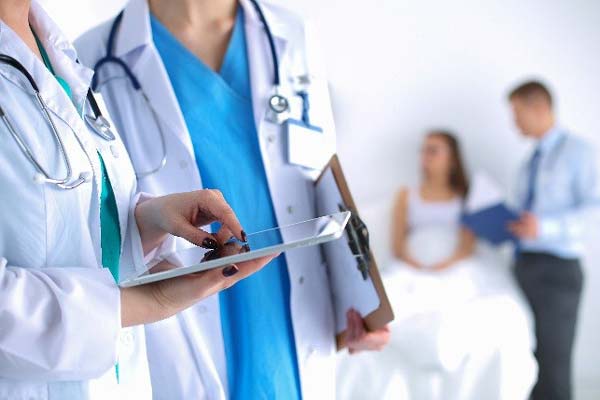 Thanks to higher profits and a rising market, all the top executives are seeing their stock options increase in value each year, and everybody is getting good 'n rich.
It's been fantastic for the large health insurance companies, as well.
United HealthGroup Inc. (NYSE: UNH) reported in mid-January that it made more than $15 billion in 2017 and expected to do even better in 2018.
Last week, Aetna Inc. (NYSE: AET) reported that profits rose by more 75% to reach $411 million for the fourth quarter and more than $1.9 billion for all of 2017.
It's party time in those boardrooms; business is great, and the stocks have been soaring.
Now here comes the "buggy whip moment."
Fed Up... and Sick to Death
On Tuesday of last week, we saw an announcement that many are discussing, almost as a kind of Wall Street novelty or gag, but I think most have missed the point.
Jeff Bezos, of Amazon.com Inc. (Nasdaq: AMZN), Jamie Dimon, of JPMorgan Chase & Co. (NYSE: JPM), and Warren Buffett, of Berkshire Hathaway Inc. (NYSE: BRK.A/BRK.B), are combining forces to explore a better way to handle healthcare for their employees.
I've heard, and maybe you've heard, too, this announcement presented as just another moneymaking scheme that will allow this trio of insanely rich and powerful CEOs to sell whatever new plan they come up with - or that it's just some new publicity stunt to make them all look good.
That is missing the entire point of what is happening here.
Healthcare in the United States is broken.
Healthcare spending in the United States is a staggering 18% of our eye-watering $18.7 trillion gross domestic product (GDP), and with the population aging, that's going to go higher unless things change - and change soon.
Healthcare is broken, and a couple of capitalists have had enough and have decided to fix it themselves.
The previous administration tried to fix healthcare by passing the Affordable Care Act and then reading it to see what it contained.
I could have told them that was not going to work. I was born in the 1960s, and I have seen the federal government try a lot of things, and none of them have gone too well.
Consider Lyndon B. Johnson's "war on poverty." In 1965, when it was launched, 21% of American children lived below the poverty line. This was unconscionable, and the government aimed to do something about it.
Today, 53 years on, the proportion of American children living in poverty... is still 21%.
Thanks to Ronald Reagan's "war on drugs," we have more nonviolent offenders in prison than any other nation on Earth... and the streets are still awash in drugs.
It doesn't really matter which party is in power, either. Because, of course, I've just rattled off some "greatest hits" in a long list of Republican and Democratic "pet" failures.
Consider some government "success stories" - again, Democratic and Republican.
We did put a man on the moon - 12 of 'em, in fact. But that had a lot more to do with the quality of our scientists than the efficiency of the federal government.
We won the Cold War, but that had as much to do with pure economics as it did with the quality of our government agencies.
The plain truth is that the massive bureaucracy of the federal government is just not all that great at achieving and doing.
The fact that Republican and Democratic proposals to fix healthcare aren't working is not a surprise.
On the other hand... in my lifetime, I have seen the capitalists achieve unbelievable things.
This Is Just the Latest in a Long Line of "Disruptors"
Capitalists have cured diseases, extended life spans, turned the Internet into a whole new world of communication, put more computing power than what was possessed by Apollo 11 in a device that fits in my pocket.
My wife can't yell at me for not asking for directions, because we have GPS and a map right on our phones. My daughter can send me pictures of the world's most beautiful granddaughter, and they cover 1,153 miles, from here to Chicago, in fractions of a second.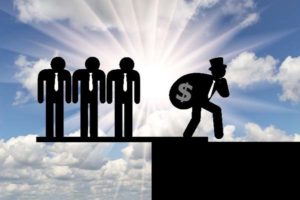 All of these incredible innovations have been made available by people who wanted to make money.
They sold me stuff that made my life better, longer, and more rewarding, because they wanted to make money.
In short, they have been capitalists.
Now the capitalists are coming for healthcare.
The nation's best businessman and investor, one of the best bankers, and a leader of the technology revolution are sick of healthcare costs eating into their bottom line, and they have decided to fix this mess.
Lower costs and healthier employees mean a fatter bottom line, so there is a powerful profit incentive for them to get this done.
When the deal was announced last Tuesday morning, Warren Buffett said, "The ballooning costs of healthcare act as a hungry tapeworm on the American economy. Our group does not come to this problem with answers. But we also do not accept it as inevitable. Rather, we share the belief that putting our collective resources behind the country's best talent can, in time, check the rise in health costs while concurrently enhancing patient satisfaction and outcomes."
This is the second clear signal we have had in recent months that healthcare delivery is going through a massive shakeup lead by the capitalists.
I talked about the prospects for improved healthcare delivery and lowered costs when the CVS-Aetna deal was announced in December. The model is going to change dramatically in the next few years, and it will shake up the traditional healthcare insurance providers and the pharmaceutical industry.
Cynics are already saying that this move is about cutting corners and saving money at employee's expense.
It's not. That's a grave and potentially expensive miscalculation.
The three companies between them have more than 1 million employees. To attract and retain the best, these capitalists have to find a way to provide world-class benefits, especially healthcare.
They will find a way to deliver better healthcare at a lower cost. They will find a way for it to boost their bottom lines. They will make people's lives better.
They are capitalists, after all.
These Trade Recommendations Are CRUSHING the Market
Since April 28, Shah Gilani's Zenith Trading Circle recommendations have outperformed every investment on the market, with an average gains of 44% per day (including partial plays).
In fact, one of his last trade recommendations closed out for a 995% win. And he's got seven more trade recommendations lined up right now.
So if you're not making gains like this... you could be cheating yourself out of tens of thousands of dollars.
To learn how to get in on this yourself, click here...
Follow Money Morning on Twitter @moneymorning, Facebook, and LinkedIn.
About the Author
Tim Melvin is an unlikely investment expert by any measure. Raised in the "projects" of Baltimore by a single mother, he never attended college and started out as a door-to-door vacuum salesman. But he knew the real money was in the stock market, so he set sights on investing - and by sheer force of determination, he eventually became a financial advisor to millionaires. Today, after 30 years of managing money for some of the wealthiest people in the world, he draws on his experience to help investors find "unreasonably good" bargain stocks, multiply profits, and build their nest eggs. Tim tirelessly works to find overlooked "hidden gems" in the stock market, drawing on the research of legendary investors like Benjamin Graham, Walter Schloss, and Marty Whitman. He has written and lectured extensively on the markets, with work appearing on Benzinga, Real Money, Daily Speculations, and more. He has published several books in the "Little Book of" Investment Series and a "Junior Chamber Course" geared towards young adults that teaches Graham's principles and techniques to a new generation of investors. Today, he serves as the Special Situations Strategist at Money Morning and the editor of Peak Yield Investor.