Gold prices spent the last week consolidating lower. Despite the pullback, I remain bullish on gold prices in 2018 and will show you my price target for March in just a moment.
Gold's biggest nemesis last week was an overbought condition rather than the dollar, since the greenback is back to nearly the same levels.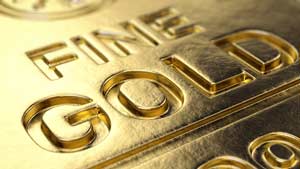 What has changed is sentiment. Quite simply, gold was overbought, and the dollar was oversold.
So gold has gone from about $1,350 to $1,330, while the dollar has remained flat. But dollar sentiment improved on the heels of Trump's bullish comments.
The dollar could have a little higher to run, but rapidly rising Treasury yields are likely to temper further gains. Rising bond yields also challenge gold prices, as they have to compete with them.
Stocks are experiencing a long overdue correction that's bleeding into other risk assets like gold, bonds, and especially cryptocurrencies.
BREAKING: A tiny company's revolutionary device has just been approved by the FCC – and even a small stake could reward you with astronomical gains. Find out how to take advantage of this ground-floor profit opportunity…
But the most undervalued of all of these unquestionably remains gold. So that's where we can expect the most significant medium- and long-term gains.
Before we get to my outlook for gold prices in 2018, here's how the precious metal is trending today…
Here's How the Price of Gold Is Trending Now
$1,350 was in fact the highest level gold would see in the past week.
The yellow metal started trending downward early on Monday as the greenback gained renewed momentum. By midday it had climbed from 89.12 to 89.50, pushing gold back to open at $1,342.  As the U.S. Dollar Index (DXY) consolidated around 89.40, gold trended lower to reach $1,340 by 5:00 p.m.
On Tuesday, a sell-off came in the dollar as the latest FOMC meeting began. The DXY peaked at 89.58 in early morning hours, then sold off to 88.95 just before 9:00 a.m. Gold bounced to a $1,344 open, then soon peaked at $1,346 by 10:00 a.m. The dollar rallied a little to 89.30 just before noon, pushing gold back to eventually close at $1,338.
Wednesday brought renewed dollar weakness, with the DXY trading below 89 until about 11:30. Then the "Fed Effect" kicked in and helped levitate the DXY to 89.15 by 5:00 p.m.  As a result, gold opened at $1,343 and gained slightly on the day to close at $1,345.
Here's the charted DXY action of the past week.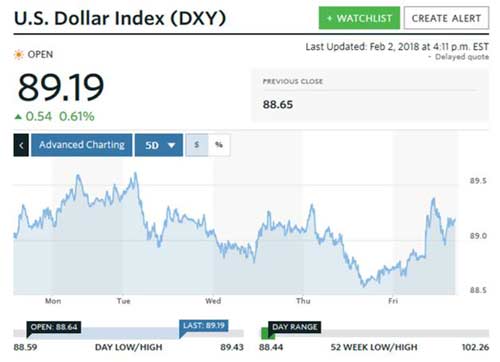 On Thursday, Feb. 1, gold opened lower yet, at $1,339, but trended higher on the day thanks to yet another DXY sell-off. The DXY traded at 89 at 8:00 a.m., then sold off to 88.62 by 5:00 p.m. That helped gold rally all the way to $1,348 by 5:00 p.m.
But Friday would see the dollar bounce from an early morning low around 88.7 by 50 basis points to 89.20 by late afternoon. The strong stock market sell-off pulled gold, bonds, oil, and cryptocurrencies along with it. Gold would open at $1,338 and settle around $1,330 to end the week.
Now that we know how gold has been trending, here's why I remain bullish on gold prices in 2018. Plus, here's my price target for March…
Here's Why Gold Prices in 2018 Will Rebound from Here
Join the conversation. Click here to jump to comments…
About the Author
Peter Krauth is the Resource Specialist for Money Map Press and has contributed some of the most popular and highly regarded investing articles on Money Morning. Peter is headquartered in resource-rich Canada, but he travels around the world to dig up the very best profit opportunity, whether it's in gold, silver, oil, coal, or even potash.