The Dow Jones is down more than 150 points in morning trading today (Monday, Feb. 5) after dropping more than 600 points last Friday. This sell-off is prompting many investors to wonder if there will there be a 2018 stock market crash.
With the Dow dropping over 5% from its 2018 high, this is a reasonable question to ask. But we want to make one thing clear: This is not the time to panic...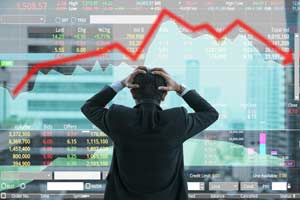 Since the current bull market began in 2009, the Dow has climbed 269%, adding on 31% of its climb in just the last year. In fact, this staggering rise has created the second-longest bull market in history.
As a consequence, stock valuations have risen to shockingly high levels. The cyclically adjusted price-earnings (CAPE) ratio climbed as high as 34.18, which is more than double its historical average. That's higher than the levels it hit before the 1929 stock market crash.
While high valuations and rising volatility are something to keep an eye on, we don't think they indicate an imminent 2018 stock market crash.
It Only Takes 10 Minutes a Week to Double Your Way to $1 Million: This strategy doesn't require any special training - yet it could potentially put $1 million in your bank account faster and easier than you ever dreamed...
In fact, we think this could actually be good sign for the future of your portfolio. Market pullbacks, and even market corrections, are indicators of a healthy market.
Money Morning Chief Investment Strategist Keith Fitz-Gerald even expects a market correction to happen in the first quarter of this year. But that's very different from a market crash.
"That sounds scary, but it doesn't have to be," Keith told us.
Here's what he means, and why it's always important to have a plan to protect your money from a future market crash...
Why It's Essential to Prepare for a Stock Market Crash