E-coin prices surged a staggering 3,351% over the last 24 hours, pushing its market capitalization to just over $1 billion.
The cryptocurrency gained as much as 4,880% in U.S. dollars and as much as 5,000% against Bitcoin. While it remains unclear why prices popped this high, some have speculated that a single large investor was responsible for a high-volume trade.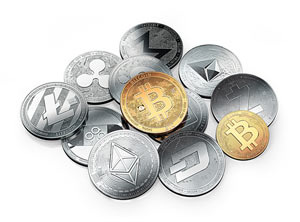 Some critics of E-coin quickly took to Twitter Inc. (NYSE: TWTR) to call E-coin's rise a "pump and dump."
They noted a Reuters article from September 2017 that detailed the Swiss government's efforts to shutdown E-coin over suspected fraud.
Currently, the website for E-coin is down.
Below is a recap of the top cryptocurrency prices at 3:00 p.m. EST.
Bitcoin: $7,491.03, +5.91%
Ethereum: $751.81, +8.73%
Ripple: $0.74, +4.51%
Bitcoin Cash: $945.23, +4.13%
Cardano: $0.33, +2.71%
Now that we know all of today's price movements, here's what has been moving these cryptocurrencies...
Cryptocurrency Markets Today
On Tuesday, the market capitalization of the global cryptocurrency sector topped $356.55 billion. Bitcoin represented 35.4% of the total cryptocurrency, market with a market capitalization of $126.22 billion.
The best performers from the top 50 largest cryptocurrencies by market capitalization included E-coin (up 3,351%), ICON (up 46.60%), Walton (up 29.72%), VeChain (up 24.76%), Nano (up 24.63%), 0x (up 24.40%), Zcash (up 21.04%), Binance Coin (up 20.78%), and NEO (up 18.2%).
Just two cryptocurrencies from the 100 largest cryptocurrencies by market capitalization were in the red today. They were XPlay (down -2.23%) and SmartCash (down -0.90%).
Bitcoin Rebounds After Government Hearing
The price of Bitcoin rebounded slightly after falling under $6,000 on Monday. This recent downturn has effectively eliminated all of the gains that Bitcoin received in anticipation of the launch of futures trading in December 2017.
Today, the U.S. government signaled that it is stepping up its efforts to develop regulations of the cryptocurrency industry.
The chair of the Commodity Futures Trading Commission (CFTC) said at a hearing before the Senate Banking Committee that U.S. Treasury Secretary Steven Mnuchin is taking the lead on coordination among agencies on the topic.
Must Read: 5 Cryptocurrencies to Watch in 2018 Under $10
"The Treasury Secretary has been out in front on this," said CFTC Chair Christopher Giancarlo.
Mnuchin has previously said that the U.S. government will work to prevent "bad people" from accessing and using Bitcoin and other digital currencies.
On top of China concerns and ongoing worries about Tether, India is moving to ban virtual currencies in the near future. The country's finance ministry said yesterday it is attempting to stop cryptocurrencies like Bitcoin from entering the mainstream.
The government will not recognize Bitcoin or other currencies as legal tender.
Billionaire hedge fund manager Carl Icahn also called cryptocurrencies "ridiculous" during an interview with CNBC.
Icahn questioned how they worked and how they should be regulated before stating that he "wouldn't touch that stuff."
Icahn's statement came shortly after economist Nouriel Roubini (also known as Dr. Doom) projected a 75% slump for Bitcoin from its recent highs. Roubini criticized Bitcoin bulls who were willing to "hold on for dear life" as volatility accelerates in the cryptocurrency space.
He said that "HODL nuts" will "hold their melting Bitcoins all the way down to zero while scammers and whales dump and run."
Up Next: Never Miss a Cryptocurrency Opportunity Again
Did you know we have a free research service that finds the most profitable opportunities in cryptocurrencies today?
It gives you real-time recommendations and price updates on only the best ways to make money now.
Here's everything you need to know.
Follow Money Morning on Facebook, Twitter, and LinkedIn.
Join the conversation. Click here to jump to comments…
About the Author
Garrett Baldwin is a globally recognized research economist, financial writer, consultant, and political risk analyst with decades of trading experience and degrees in economics, cybersecurity, and business from Johns Hopkins, Purdue, Indiana University, and Northwestern.