The Dow Jones Industrial Average plunged 1,175 points yesterday (Feb. 5), the single largest one-day drop ever. Combine that with Friday's losses, and the Dow dropped nearly 7% in just two days.
With that sort of sudden drop in the Dow, it's natural to be concerned about protecting your retirement, and your wealth.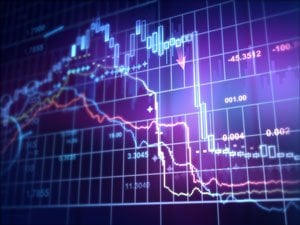 But we're here to remind investors that now is not the time to panic. Our experts are here to help you find solid footing as the market plunges into uncertainty. By using our stock market crash protection plan, you can not only protect your money from losses, but turn the Dow's decline into a profit opportunity...
Now, we want to make sure you know that this isn't a stock market crash. In fact, Money Morning Chief Investment Strategist Keith Fitz-Gerald predicted there would be a correction in the first quarter this year.
Here's what happened...
Friday's sell-off started as routine profit-taking, but computer trading algorithms took over in the last hour, spiraling the market into a much quicker downturn.
Urgent: Feds use obscure loophole to threaten retirees. If you have a 401(k), IRA, or any type of retirement account, this could cause you to miss out on $68,870 or more. Learn more...
You see, some of the biggest investment firms on Wall Street use computers to automatically execute trades when they are triggered by external events. This helps these hedge funds hedge against risk or quickly capitalize on changing market conditions. In this case, the sell-off triggered the computers into selling off too, which happened so fast humans couldn't keep up.
But that's no reason to overreact and make a rash decision that could cost you money in the long term.
"The single biggest and most expensive mistake you could make is to try to second-guess the markets right now," Keith told us. "This kind of gut-wrenching drop is simply a technical market recalibration, albeit one that's pretty darn scary."
But even though we didn't witness a stock market crash this week, it's still worth being cautious...
As Keith reminds us, "big sell-offs like this rarely happen in isolation, which means that we may get a second white-knuckle day... or even a third."
While you don't want to overreact, you can take some simple steps to protect your money.
This is a great time to tighten your trailing stops, for instance. Tightening your trailing stops will make sure you exit your positions in case another day like Monday sends your stocks into a territory you aren't comfortable with.
And you can follow the four simple steps in our stock market crash protection plan. Even though we aren't expecting a real market crash, the steps in this plan will help guard your portfolio against volatility in uncertain times.
Plus, these four steps will help you turn a market correction into a profit opportunity...