SpaceX CEO Elon Musk created quite the spectacle on Feb. 6, 2018, launching a rocket into space carrying his personal Tesla Inc. (Nasdaq: TSLA) Roadster.
Because of all the excitement, Money Morning readers are asking us, "When can I buy SpaceX stock?"
Video
SpaceX Live Views from Space
Unfortunately for anxious investors, there's not going to be a SpaceX IPO anytime soon.
In an e-mail sent to Reuters in May 2017, SpaceX President Gwynne Shotwell said that any rumors about SpaceX preparing for a public offering were "not true."
In fact, there may never be a chance to buy SpaceX stock. But investors may still get a chance to own a stake in the company.
Here's how that could work...
Why SpaceX Stock May Never Hit the Market, but You Can Still Profit
There could be a SpaceX merger through Tesla, making Tesla a backdoor investment strategy for profiting from SpaceX.
An analyst at Morgan Stanley believes SpaceX may eventually merge with Tesla, according to a Dec. 5, 2017, Business Insider report.
A merger would provide Tesla with SpaceX's $1 billion worth of assets and company cash.
It would also save Musk from running two publicly traded companies, which is something he doesn't want to do.
Critical: A tiny company's revolutionary device has just been approved by the FCC - and even a small stake could reward you with astronomical gains. Find out how to take advantage of this ground-floor profit opportunity...
During an appearance at Vanity Fair's New Establishment Summit in 2015, Musk said that he wouldn't recommend being the CEO of two publicly traded companies because it "really decreases your freedom quite a lot."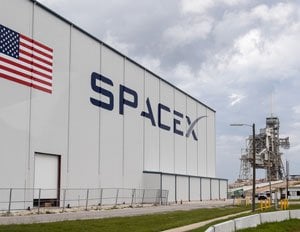 And Tesla is already a company we recommend here at Money Morning.
"The company is a Power Profit Trades and Gentile family favorite," Money Morning's options trading specialist, Tom Gentile, said on Feb. 1.
As any SpaceX IPO news breaks, we will keep our readers updated through our free Profit Alerts service. Through Profit Alerts, you'll receive moneymaking recommendations sent directly to your inbox.
However, you don't have to sit on the sidelines waiting for IPOs or mergers.
There are profit opportunities forming right now.
Today, we wanted to share the details with our readers about a tiny company's revolutionary device that has just been approved by the FCC - and even a small stake could reward you with astronomical gains....
Critical: FCC Approves Revolutionary Device (This Changes Everything)