If you're a newer investor hoping to learn how to place your first stock trade online, by the end of this article, you'll know exactly how to buy penny stocks online.
Whether you want to buy shares of a reliable blue-chip company like Coca-Cola Co. (NYSE: KO)...
...or take a chance at 207% returns in just 49 days with penny stocks like Neptune Technologies & Bioressources Inc. (Nasdaq: NEPT)...
...by the end of this step-by-step guide, you'll know exactly how to do either on Ally's discount online brokerage platform.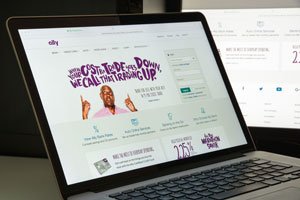 Ally's platform is great for beginners, especially for those who might want to eventually trade stock options.
The elements of Ally's platform and order ticket are similar to those found in most other major online brokers.
Fees start at just $4.95 per trade and go down to $3.95 per trade after 30 trades in a quarter. However, there's an additional $0.01 per share charge for stocks trading under $2.
Sign up for SMS so you never miss special events, exclusive offers, and weekly bonus trades.
If you're looking for the absolute cheapest online broker to buy penny stocks with, click here...
The First Step on Your Road to Millions Starts Here: All you need is a computer or smartphone and just 10 minutes of "work" to potentially put $1 million in your bank account faster than you ever dreamed. Read more...
But to find out how to place your first trade after opening your first online brokerage account, read on...
How to Look Up a Stock
First, enter the ticker symbol (ex. MSFT for Microsoft) into the "quick quote" or "quote lookup" bar often accompanied by a little magnifying glass icon.

Once the ticker is in the quote bar, hit the sideways caret symbol (">"), and you'll be presented with summary information for the stock...
The Anatomy of a Stock Quote
As you can see, Ally's platform gives users a way to look up a stock's recent price summary information without having to change web pages. Most online brokers have a similar feature.
Here's a breakdown of the most important information to pay attention to when executing a trade...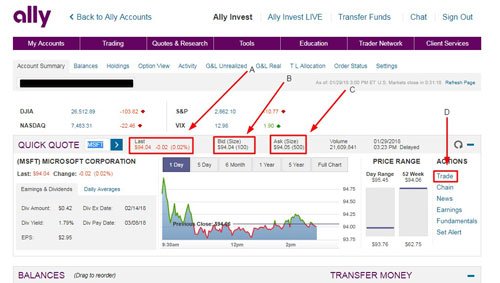 This is the stock's most recent sale price.
The "Bid" is the price at which Microsoft stock buyers are willing to buy at.
The "Ask" is the price at which Microsoft stock sellers are willing to sell at.

Note that for stocks with high trade volume, like Microsoft, the spread between "Bid" and "Ask" will usually be very narrow. Penny stocks, on the other hand, which are less liquid, can have much larger spreads.

Click this button to enter your brokerage's "trade" or "order" ticket...
Some online brokers have a quick trade ticket just like they do with the quick stock quote feature. Clicking Ally's "Trade" button will take you to a separate web page...
The Anatomy of an Order Ticket