Bitcoin Cash prices surged 30% on Thursday, with a 22% bullish run in just two hours. The global cryptocurrency sector has been rebounding from Tuesday's lows, as investors remain optimistic about the U.S. government's approach to regulation.
Still, there remains a lot of uncertainty about the future of cryptocurrencies...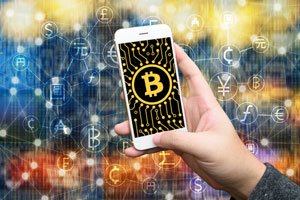 Facebook's ban of crypto ads, China's crackdowns, India's proposed regulations, and the CFTC subpoenas of Bitfinex and Tether have pushed Bitcoin from $19,000 in December to under $6,000 earlier this week.
Below is a recap of the top cryptocurrency prices at 4:00 p.m. EST.
Bitcoin: $8,376.21, +2.72%
Ethereum: $817.23, -0.65%
Ripple: $0.76, -.028%
Bitcoin Cash: $1,312.10, +30.16%
Cardano: $0.35, -1.26%
Now that we know all of today's price movements, here's what has been moving these cryptocurrencies...
Cryptocurrency News Today
On Thursday, the market capitalization of the global cryptocurrency sector hit $396.18 billion.
Bitcoin represented 35.6% of the total cryptocurrency market, with a market capitalization of $141.44 billion.
The best performers from the top 50 largest cryptocurrencies by market capitalization included Bitcoin Cash (up 30.16%), DigixDao (up 27.03%), Zcash (up 17.9%), Lisk (up 13.25%), Ethereum Classic (up 11.98%), Monero (up 10.75%), Bitcoin Gold (up 8.82%), and Dash (up 5.94%).
The worst performers from the top 50 largest cryptocurrencies by market capitalization included NEM (down -7.91%), Veritaseum (down -5.7%), Electroneum (down -4.67%), 0x (down -4.41%), KuCoin Shares (down -3.70%), Nano (down -2.09%), NEO (down -1.92%), and Stellar (down -1.99%).
Bitcoin Continues Rebound
The price of Bitcoin ticked nearly 3% higher on Thursday as investors continue to cheer recent regulatory guidance by the U.S. Securities Exchange Commission and the CFTC.
February Bitcoin futures hovered around $8,290.00 at the Chicago Board of Exchange. At CME Group, the February contract was slightly higher, at $8,320.00.
But the Bitcoin news today wasn't all positive...
Minneapolis Fed Bank President Neel Kashkari called Bitcoin a novelty and suggested that it and other cryptocurrencies will never replace the U.S. dollar.
"If you live in any modern advanced economy, I would stick with the dollar, I would stick with the yen and leave Bitcoin for the, you know, toy collectors," he said at a town hall meeting in South Dakota.
Can a Single Book Make You a Millionaire? This book will show you how you can amass $1 million or more. The best part is, you only have to "work" in practically effortless 10-minute increments once a week! Claim your free copy... 
With that in mind, Kashkari did suggest that cryptocurrencies could be valuable in nations like Venezuela that have less economic stability and are not tied to the government.
Did Tether Do It Again?
Over the last two months, there has been a lot of speculation and rumors about the solvency of Tether.
The cryptocurrency, which says it is backed by the U.S. dollar, added nearly $1.9 billion in new tokens in December, prompting fears that it may have helped prop up the price of Bitcoin and helped fuel a huge rally that we saw in December.
Tether has been subpoenaed by the CFTC over its auditing process.
With that in mind, Tether just shifted its attention to a new coin called EURT, which it says it is pegged to the euro.
This week, as Bitcoin and Ethereum began its rebound, users on Reddit noted that roughly 71.5 million new EURT coins (nearly $90 million) had been mined and pumped into the global cryptocurrency system.
Bryan Menegus at Gizmodo has compiled a timeline and notes that it seems like an odd coincidence that the moment this influx of $87 million took place, the value of nearly every cryptocurrency in the top 100 by market capitalization saw gains.
Up Next: Want the Best Crypto Advice Sent Right to Your Inbox?
Did you know we have a free research service that finds the most profitable opportunities in cryptocurrencies today?
It gives you real-time recommendations and price updates on only the best ways to make money now.
Here's everything you need to know.
Follow Money Morning on Facebook, Twitter, and LinkedIn.
Join the conversation. Click here to jump to comments…
About the Author
Garrett Baldwin is a globally recognized research economist, financial writer, consultant, and political risk analyst with decades of trading experience and degrees in economics, cybersecurity, and business from Johns Hopkins, Purdue, Indiana University, and Northwestern.