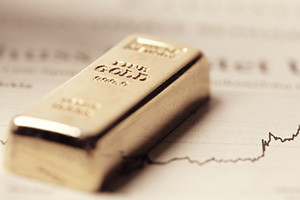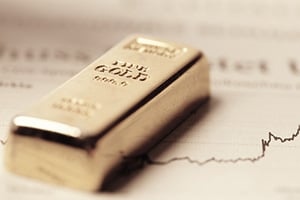 With gold prices up nearly 9% year to date, investors are asking, "Should I invest in gold in 2018?"
The answer is an emphatic yes.
According to Money Morning Resource Specialist Peter Krauth, we are entering the next phase of a gold bull market that could generate immense profits for the savvy investor.
Let's take a look at the catalysts behind Peter's prediction - and how you can profit from them...
 Should I Invest in Gold in 2018? These Catalysts Say "Yes"
Peter sees three catalysts that will drive up the price of gold in 2018.
Over the last year, the value of the U.S. dollar has fallen significantly. In the past 12 months, the U.S. Dollar Index is down just over 10%. Historically, a weaker dollar has led to greater investment in gold, as investors look for an alternative store of value to fiat currency.
"Ongoing weakness in the U.S. dollar has also supported higher gold prices, and I don't see that trend ending anytime soon," says Peter. "Rather, I think an even lower dollar lies ahead and should help fuel further gains for the precious metal."
BIG, FAST PROFITS: This one pick paid 100% in seven days, then 205% the next day, and 410% by the next week. You've got to see how it's done...
As a result, more investors are buying gold and taking long-term positions. The Gold Bugs Short Index is down 2.91% over the last year, indicating that fewer people are betting against the precious metal.
Additionally, global unrest has boosted demand for gold. As we continue to have issues with political and economic uncertainty around the world, investors are likely use gold as a store of value in order to protect their investments.
These catalyst have given Peter some staggering price targets for gold. Peter believes that we will see the price of gold hit $1,400 in the first half of 2018, 4.47% above the current price. He also predicts that gold prices could reach as high as $1,500 by year's end, a gain of 11.9% from current levels.
Money Morning Executive Editor Bill Patalon thinks Peter is right on the money. In fact, gold's bullish future has given Bill his top gold stock to buy in 2018. With this stock, you can far outpace the gains of the precious metal.
Let's take a look at Bill's pick...
This Is the Top Stock to Buy for Gold Investors in 2018
[mmpazkzone name="in-story" network="9794" site="307044" id="137008" type="4"]
Our top pick for the best gold stock to own this year is Goldcorp Inc. (NYSE: GG) a Canada-based gold mining company that has huge potential to investors.
Bill alerted readers to this stock's potential to outperform its competitors last March, and he remains bullish on this company in 2018.
Goldcorp is largely attractive because of its dedication to increasing the efficiency of the gold mining process.
Gold mining companies use a figure referred to as the "all-in sustaining cost" (AISC). This is the amount of money that it costs the miner to pull a single ounce of gold from the ground. The lower the AISC, the more profits a gold miner will make on each ounce.
Goldcorp's AISC in 2016 was $936, and that figure was reduced 11.6% in 2017, to $827. The company's goal is to get its AISC to $700 over the next decade, which it will achieve much sooner at the current rate of improvement.
Goldcorp's dedication to cutting costs will make the company more efficient and reward the shareholder in the process.
In fact, the profits are already showing. Last October, Goldcorp released its Q3 earnings, reporting a profit of $111 million for the quarter, or earnings of $0.13 per share. This result was nearly double that of the $59 million earned in Q3 2016 and a better-than-expected earnings per share, which was estimated to be $0.10.
In addition, Goldcorp has entered into several strategic partnerships over the last few years in an effort to expand its market share in the gold industry. The company acquired Kaminack Gold Corp. and the Coffee Gold Project in Canada's Yukon Territory last July in a deal valued at $373 million.
The company also achieved a "private placement" deal with Triumph Gold Corp. (CVE: TIG) last March, giving Goldcorp a 19.9% stake in TIG, valued at $4.75 million.
These deals promise to increase Goldcorp's market share and its bottom line.
Currently, Goldcorp trades at $12.70. However, analysts have a 12-month price target of $20 per share on the company's stock, a gain of more than 41% from today's price.
However, that's not the only profit opportunity on the horizon...
Critical: FCC Approves Revolutionary Device
It's a stunning breakthrough that's set to spark the most monumental life-changing transformation you'll ever see.
The Washington Times says the technology behind this revolutionary innovation "will change the world on a scale hardly seen in human history."
And now that it's approved by the FCC, the floodgates are set to open - and could reward early investors with astronomical gains.
With one tiny company at the heart of this massive shift, even a small investment could create staggering wealth for years to come.
Continue here to learn more...
Follow Money Morning on Twitter @moneymorning, Facebook, and LinkedIn.