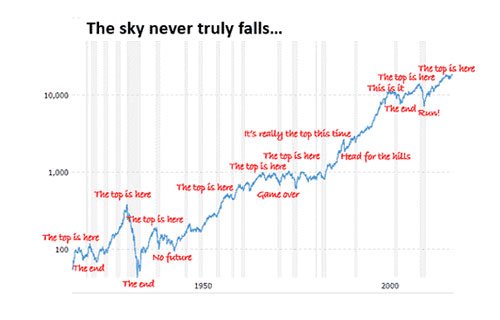 "What goes up, must come down."
Sir Issac Newton's legendary adage is about physics, but you could apply it to just about anything.
Like a 350-foot-high pop fly that's caught at the end of the game, or the theme of a great Blood, Sweat, & Tears song.
Or the last week of stock market activity.
The Dow experienced its fastest 1,000-point move in history at the start of 2018.
But over the course of last five trading days, the Dow Jones Industrial Average dropped over 1,700 points, or roughly 6%.
Investors panicked in droves. Many reverted to selling everything they could – even at large losses – and began calling for a complete market sell-off.
Fox Business Network claimed there was "turmoil in the markets."
CNN Money started ranting about "Armageddon" for the financial world.
And Business Insider warned of the "global market crash."
We stayed calm here at Money Morning, because we know…
What goes up, must come down.
We saw this pullback – not stock market crash, or financial apocalypse, but pullback – coming from a mile away.
In fact, just last month, on Jan. 9, we told you that we're likely to see a market pullback within 81 days.
Even better, Money Morning Chief Investment Strategist Keith Fitz-Gerald told you exactly how to play it and protect your money. "Focus on the companies that are growing, the money that is moving, and the profits that are being created, longer term, and you're going to be just fine," he said.
And if you've listened to him, you're not running for cover like average investors right now, who gave in to CNN's doomsday warnings earlier this week.
We'll continue to keep you updated as the market swings – that's our promise to you. And there are sure to be some more swings in the near future.
"Markets are like a pond in which you throw a stone," Keith told us today. "It ripples. So we're going to continue to see volatility probably over the next couple of weeks."
"But rest assured – the computerized programs that created this mess will readjust."
And when they do, you'll be glad you stayed in the markets.
Editor's Note: Even with all of these recent market ups and downs, Keith's Money Map Report subscribers had the opportunity to close in on their 15th free trade recommendation this past week – meaning they could have made their money back, and now, any future gains they make are pure profits in their pockets. We're looking to close in on a few more soon, so it's definitely not too late for you to join in on the fun. Click here for more information.
Related Articles:
What to Do When the Markets Get the Jitters
Recoup Your Market Losses with This 350% Gain
One of the Simplest Trading Strategies to Double Your Money When Volatility Strikes
Follow Money Morning on Facebook, Twitter, and LinkedIn.