In today's Bitcoin news, Arizona residents may soon be able to pay their taxes using the digital currency.
But more on that in a moment…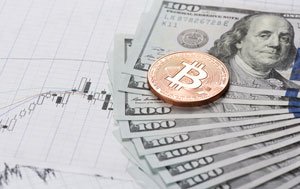 The news came the same day that the broader cryptocurrency markets recovered from weekly lows.
Bitcoin added 4.95% over the last 24 hours, pressing it back toward a market capitalization of $150 billion. Below is a recap of the top cryptocurrency prices at 2:30 p.m. EST.
Bitcoin: $8,674.22, +4.95%
Ethereum: $871.99 +6.42
Ripple: $0.92, +21.52%
Bitcoin Cash: $1,299.47, +0.03%
Cardano: $0.38, +11.02%
Now that we know all of today's price movements, here's what has been moving these cryptocurrencies…
Cryptocurrency News Today
On Friday, the market capitalization of the global cryptocurrency sector hit $422.1 billion. Bitcoin represented 34.6% of the total cryptocurrency market, with a market capitalization of $146.44 billion.
The best performers from the top 50 largest cryptocurrencies by market capitalization included Bitcoin Gold (up 54.82%), Ethereum Classic (up 24.41%), Qtum (up 23.17%), Ripple (up 21.52%), TRON (up 21.52%), Ardor (up 18.55%), Revain (up 18.30%), Lisk (up 15.13%), and EOS (up 13.94%).
Only two cryptocurrencies in the top 100 by market capitalization were in the red today. They were Bitcoin Cash (down 0.03%), and SmartCash (down 0.52%).
Pay Your Taxes with Bitcoin
The state of Arizona is trying to change the way that governments view Bitcoin and cryptocurrencies in the United States.
Arizona Rep. Jeff Weninger co-sponsored a bill that aims to streamline the way that residents pay their taxes. The bill not only allows people the option of paying their taxes in Bitcoin, but it would also officially recognize Bitcoin as a currency and not just a commodity.
Critics of the bill argue that the current tax system in place has far less risk.
The state is unlikely going to hold Bitcoin, meaning that the public would be forced to pay transaction costs to turn Bitcoin back into U.S. dollars.
Bitcoin Continues to Rebound
The price of Bitcoin was up nearly 5% as the broader cryptocurrency sector increased.
While the rebound has generated headlines, the real story was happening over in Russia.
According to Vice News, Russian officials arrested several nuclear scientists over an incredibly brave – and stupid – Bitcoin scheme.
Must Read: Never Miss Our Exclusive Cryptocurrency Reports
The scientists risked state nuclear secrets, their careers, and the safety of their facilities to use a government supercomputer to mine Bitcoin. The government realized that something was wrong when officials discovered that the supercomputer was connected to the Internet, which is not what you do with computers holding your nuclear codes.
This story is important because Russia has been cracking down on miners over more than just state security concerns.
Last night, international media reported that illegal Bitcoin mining created a massive fire that destroyed eight apartments and flooded 30 others in eastern Russia.
The fire was caused by Bitcoin rigs that overheated and ignited.
There Goes E-Coin Again
It's been a very volatile week for E-coin. The little-known cryptocurrency had pushed into the top 25 currencies by market capitalization earlier this week.
However, the price of E-coin collapsed and was likely due to a pump.
Well, here we go again…
Today, the price of E-coin surged more than 501% and pressed its market capitalization to $341 million.
Up Next: Want the Best Crypto Advice Sent Right to Your Inbox?
Did you know we have a free research service that finds the most profitable opportunities in cryptocurrencies today?
It gives you real-time recommendations and price updates on only the best ways to make money now.
Here's everything you need to know.
Follow Money Morning on Facebook, Twitter, and LinkedIn.
Join the conversation. Click here to jump to comments…
About the Author
Garrett Baldwin is a truly self-made, 38-year-old Mensa millionaire with four degrees from the nation's top universities: Northwestern, Johns Hopkins, Purdue, and Indiana University. His biggest accomplishment, however, is his Quantum Loop invention - a trading technology that completely changed his life. Thanks to his unique career path in "competitive intelligence," Garret was inspired by a radar system used by the military to develop his Quantum Loop. It is the first known innovation that can both time the market and an individual stock simultaneously. After eight years of rigorous backtesting and countless successful trades, the rest is history. He's now a millionaire living in one of the richest ZIP Codes in America. Garrett's also a best-selling author, inspiring thousands of people to pursue and achieve their own financial goals. When Garrett isn't busy trading and writing, he's lounging with his wife and child on the beach outside his home in Naples - or globetrotting as inspiration for his next investing invention.