Our investing experts have made some tremendous picks over the last several years, outperforming the S&P 500 by 100%, 200%, or even as much as 700% in the case of Money Morning Executive Editor Bill Patalon's 2012 pick of Galapagos NV (Nasdaq: GLPG).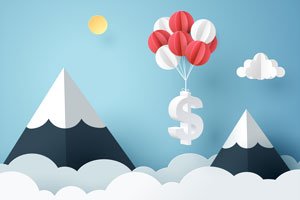 After a stock has already put up spectacular gains like that, conventional wisdom would tell you the party's over.
"What goes up must come down" may be true for hot air balloons and triple axels, but it's not always true for stocks. And it's especially not true for stocks in spectacular companies that are built for long-term growth.
In fact, there are plenty of examples of stellar stocks that continued to outperform the S&P 500 for decades after investors thought they had already missed out on the big gains.
Take McDonald's Corp. (NYSE: MCD), for example…
As Money Morning Chief Investment Strategist Keith Fitz-Gerald explained in January, many investors were sure that MCD's improbable run was over after its stock price more than doubled in its first six years after going public.
That was 1971. Since then, McDonald's stock has put up returns of more than 55,000%. And that's not even counting dividends.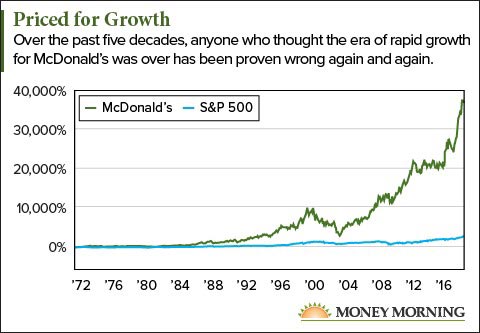 MCD's ongoing success doesn't mean that stocks don't frequently get overvalued. So when we look at stocks that have gone on a run of success, we have to be able to separate the signal from the noise.
So let's look at how we'll keep finding the ones that deliver for years to come…
Three Ways a Stock Can Deliver Unending Profits
There are three signs Keith points to that identify stocks that are still worth buying, even if they've already delivered 1,000% gains.
Companies that are tapped into an "Unstoppable Trend": That means they're in a sector that is bound to grow, like medicine, or energy, or technology, and they can ride that wave for decades or more.
Companies that offer "must-have" products and services: It's better to own stock in a company that manufactures water pipes than, say, one that offers fancy meal kit subscriptions.
Companies that are disrupting their industry. Think of the way McDonald's transformed the restaurant business or how Amazon.com Inc. (Nasdaq: AMZN) has transformed the retail industry. When you see the traditionalists scoffing or scratching their heads while the new company is eating their lunch, that's the time to buy.
It Only Takes 10 Minutes a Week to Double Your Way to $1 Million: This strategy doesn't require any special training – yet it could potentially put $1 million in your bank account faster and easier than you ever dreamed…
Now that we know what to look for, here are some of Money Morning's top-performing stock picks that have more big gains to come.
You Can Still Profit from These Top Performers
Join the conversation. Click here to jump to comments…
About the Author
Stephen Mack has been writing about economics and finance since 2011. He contributed material for the best-selling books Aftershock and The Aftershock Investor. He lives in Baltimore, Maryland.