Raking in $1 billion in 2017, Coinbase seems like the perfect investing opportunity to play the crypto market without having to buy and safeguard Bitcoin, Litecoin, or Ethereum.
But because the San Francisco-based firm is private, there isn't a Coinbase stock symbol.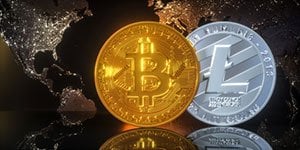 And even if there was a Coinbase IPO, it might not be as good of an investment as it sounds.
You see, all IPOs are subject to volatile price swings, no matter the industry.
For example, when Snap Inc. (NYSE: SNAP) went public on March 2, 2017, shares of SNAP opened at an all-time high of $28.17 on March 6.
Unfortunately, retail investors who bought at those prices hoping Snap would be the next Facebook Inc. (Nadsaq: FB) got burned...
From yesterday's (Feb. 12, 2018) opening price of $18.84, some early investors have now lost 33.12% of their original investment.
However, we still found a way to profit from the cryptocurrency market without having to buy a risky IPO or even own a cryptocurrency.
Best of all, our readers can invest in it today.
In fact, some of our readers have already made a profit of 23.43% in the two months since our first report about this company came out on Nov. 27, 2017. In that same time, the Dow Jones Industrial Average climbed just 11.71%.
Not too bad.
Collect a Colossal Payday Thanks to California's Legal Cannabis - Click Here Now to Learn How to Position Yourself for Windfall Profits
But in the next 12 months, wealth management company DA Davidson projects this company's stock price could climb another 83.48%.
Today, we'll show you our backdoor crypto investing play through an established company that's been in business since 1999 and is worth $1.4 billion.
And if you know about this stock right now, over the next 12 months, you can take part in the potential 83.48% gains...
Instead of Coinbase, This Is the Real Crypto Profit Play