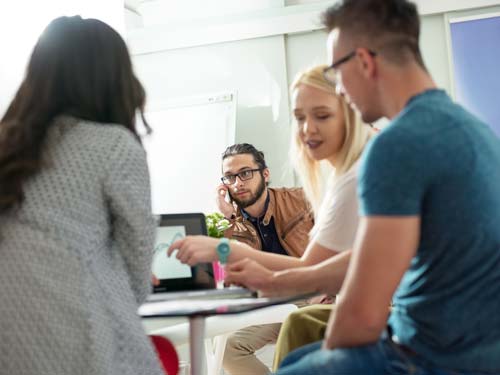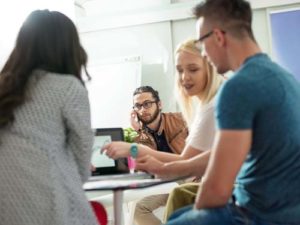 A recent report from Nasdaq showed that one in every three millennials are invested in the stock market. That's 25 million new investors under the age of 35 pouring their money into securities.
When we reviewed the report, we noticed that five of the top "millennial stocks," or stocks being purchased by millennials, were also some of our top stocks to buy in 2018. You see, millennials are mostly pouring into technology stocks. In fact, 44% of all stocks held by millennials come from the tech sector.
But the millennial stocks on our list today are not volatile, small-cap stocks. They're established companies, focused on growth, and they all have massive upside.
That's why we're bringing you the top five stocks millennials buy in 2018.
Here's a closer look at "millennial stocks" and why they belong in your portfolio…
Top Millennial Stocks in 2018, No. 5: Tesla Inc.
The futuristic automaker Tesla Inc. (NASDAQ: TSLA), can be found in nearly 8% of all millennial portfolios.
While TSLA stock is known for its volatility, millennials are hooked on Tesla because of its potential to revolutionize travel. Whether it's a national network of electric charging ports or self-driving cars, Tesla's plans to disrupt the auto and oil market has millennials excited.
And Money Morning Chief Investment Strategist Keith Fitz-Gerald has taken a long-term outlook on TSLA for years.
The Wall Street establishment has steered clear of Tesla because the company's lofty goals have detracted from immediate profitability. However, Keith thinks that the scope of Tesla's vision is the company's long-term strength.
According to Keith, the fact that company CEO Elon Musk "is involved in so many things is precisely the attraction here and why savvy investors would be wise to pay attention. Musk wants to redefine the electric grid and, with it, the world's energy supply."
Keith thinks that Tesla's efforts to become "more than a car company" will drive the company's success long into the future.
Tesla currently trades around $315. The company's lack of immediate profit makes it a riskier investment. But if Musk's company can follow through on the lofty goals he has set, analysts see the automaker's shares hitting $500 and beyond.
Top Millennial Stocks in 2018, No. 4: Microsoft Corp.
An old favorite of generation X, Microsoft Corp. (NASDAQ: MSFT) has become a favorite of millennials too, with nearly 10% reporting they own this stock.
Much of Microsoft's recent growth is the result of the company expanding into cloud computing and artificial intelligence. The company saw sales for its Azure cloud service grow by at least 90% over the last five quarters. Sales grew a staggering 98% in the most recent quarter.
It Only Takes 10 Minutes a Week to Double Your Way to $1 Million: This strategy doesn't require any special training – yet it could potentially put $1 million in your bank account faster and easier than you ever dreamed…
These figures are why Money Morning Director of Technology & Venture Capital Research Michael Robinson is so bullish on Microsoft as well.
"All (of these factors) make Microsoft a profitable investment in both mainstream business and bleeding-edge tech like blockchain and AI," he says.
Analysts see Microsoft sales growing by over 11% in the next year, while its total revenue could rise as much as 9%. Additionally, five-year growth is expected to break 11%.
This millennial favorite currently trades around $89.00. However, its explosive growth potential has analysts seeing $120 in the next year.
Top Millennial Stocks in 2018, No. 3: Amazon.com Inc.
Nearly 12% of all young investors are shareholders of this retail juggernaut.
And for good reason…
Amazon.com Inc. (Nasdaq: AMZN) dominates e-commerce. The company currently has 80 million subscribers to its Prime subscription service and accounts for nearly half of all U.S. digital retail.
The company is also pushing into uncharted territory. Amazon has announced plans to move into a wide range of additional industries including healthcare and transportation – industries it's sure to revolutionize.
Amazon's aggressive diversification is why Keith sees the company's stock hitting $2,000.
"Amazon is knocking the leather off the ball by every metric available," he says. "It's big into data, it's big into shipping fulfillment, it's big into media content – these are things that are firing on all cylinders that the market is hungry for."
Amazon currently trades at $1,386. However, with Keith's price target, this millennial favorite is still selling at bargain prices.
Top Millennial Stocks in 2018, No. 2: Facebook Inc.
Facebook Inc. (Nasdaq: FB) is ubiquitous in the lives of millennials. As a result, it's little surprise that it's the second-most-common stock in a young investor's portfolio.
Facebook has delivered some impressive sales growth in the last two years, with sales rising 122% and profits increasing 145% between 2015 and 2017.
As Robinson points out, Facebook has begun pushing new forms of content to its users, turning the platform into a one-stop shop for entertainment.
"Facebook is becoming the most popular form of entertainment on the planet. What began as a way for friends to share thoughts and quirky pictures has become a portal for videos, music, civic action, and so much more," says Robinson.
Michael thinks Facebook will continue to build on this initial entrance in the multimedia market though its other digital platforms.
"Facebook also has the popular Instagram, WhatsApp, and Messenger in its lineup. CEO Mark Zuckerberg wants Facebook to become a primary online hub for videos, messages, texts, photos, and news – all portals that will add profits for years to come," he says.
Three years ago, Michael gave Facebook a lofty price target of $108. Since then, Facebook has repeatedly met and blown through even his most ambitious price estimates.
Facebook currently trades at $176.00. However, Michael has a price target of $250 for the social media network. If Facebook continues its trend of smashing Michael's estimates, that target could be conservative.
While 14% of millennials own shares of Facebook, the No. 1 on our list is owned a whopping 22% of millennials. And it's also one of our favorite stocks on the market…