Litecoin prices today climbed to $215 per coin and remained in the top five cryptocurrencies by market capitalization.
Litecoin prices are surging on news that LitePay will launch later this month, and some crypto investors may be adding more LTC ahead of the Litecoin Cash hard fork.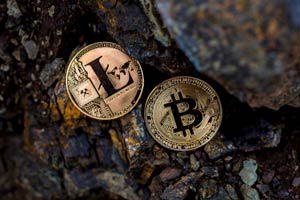 In other cryptocurrency news today, the price of Bitcoin climbed more than 8% and pressed above $10,000 for the first time in weeks. The uptick came after Fundstrat Global Advisors Tom Lee predicted that Bitcoin could hit $20,000 by midyear.
Lee also projects that Bitcoin will hit $25,000 by the end of the year.
Markets have largely recovered from concerns about South Korean efforts to regulate the sector. Traders no longer anticipate that the South Korean financial ministry will aim to ban cryptocurrency trading.
Below is a recap of the top cryptocurrency prices at 4:00 p.m. EST.
Bitcoin: $10,081.30 +8.43%
Ethereum: $928.48, +2.11%
Ripple: $1.14, +2.82%
Bitcoin Cash: $1,374.71, +2.95%
Litecoin: $215.50, +3.88%
Now that we know all of today's price movements, here's what has been moving these cryptocurrencies…
Cryptocurrency News Today
On Thursday, the market capitalization of the global cryptocurrency sector hit $474.5 billion.
Bitcoin represented 35.8% of the total cryptocurrency market, with a market capitalization of $170.0 billion.
The best performers from the top 50 largest cryptocurrencies by market capitalization included Waves (up 28.41%), VeChain (up 24.91%), Komodo (up 19.84%), Waltonchain (up 18.25%), Dogecoin (up 13.96%), Ark (up 12.12%), Lisk (up 11.24%), and Decred (up 10.74%).
The worst performers from the top 50 largest cryptocurrencies by market capitalization included Populous (down -6.86%), Nano (down -5.91%), RChain (down -5.69%), 0x (down -4.49%), Aeternity (down -2.11%), OmiseGO (down -1.40%), NEM (down -1.18%), and Kin (down -1.02%).
Bitcoin Bounces Back
The push back above $10,000 came despite news that Berkshire Hathaway Vice Chair Charles Munger called Bitcoin "totally asinine."
Must Read: 5 Cryptocurrencies to Watch in 2018 Under $10
Munger told The Daily Journal that he "never considered for one second having anything to do with it. I detested it the moment it was raised. It's just disgusting. Bitcoin is noxious poison."
U.CASH Slumps Another 47% Thursday
The price of U.CASH fell another 47% after the great weekly pump ended in disaster for some investors.
U.CASH surged more than 100% in a day earlier this week thanks to a third-party pump.
But the price has now declined by more than 40% for three straight days.
U.CASH represents an important reminder to remain cautious about investing in a cryptocurrency that surges without a reasonable catalyst.
Up Next: Never Miss a Cryptocurrency Opportunity Again
Did you know we have a free research service that finds the most profitable opportunities in cryptocurrencies today?
It gives you real-time recommendations and price updates on only the best ways to make money now.
Here's everything you need to know.
Follow Money Morning on Facebook, Twitter, and LinkedIn.
Join the conversation. Click here to jump to comments…
About the Author
Garrett Baldwin is a truly self-made, 38-year-old Mensa millionaire with four degrees from the nation's top universities: Northwestern, Johns Hopkins, Purdue, and Indiana University. His biggest accomplishment, however, is his Quantum Loop invention - a trading technology that completely changed his life. Thanks to his unique career path in "competitive intelligence," Garret was inspired by a radar system used by the military to develop his Quantum Loop. It is the first known innovation that can both time the market and an individual stock simultaneously. After eight years of rigorous backtesting and countless successful trades, the rest is history. He's now a millionaire living in one of the richest ZIP Codes in America. Garrett's also a best-selling author, inspiring thousands of people to pursue and achieve their own financial goals. When Garrett isn't busy trading and writing, he's lounging with his wife and child on the beach outside his home in Naples - or globetrotting as inspiration for his next investing invention.