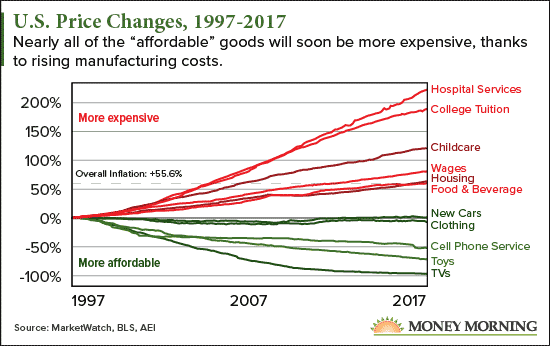 The very goods that have kept inflation low since the late 90s are about to become a whole lot more expensive.
As you can see, although critical services like healthcare, college, and childcare have all dramatically risen in price in the past 20 years, overall inflation has been tempered by retail goods like clothing and electronics.
But that's all about to change.
"The prices that affect inputs of manufacturing and production are rising, and no one's paying attention," Money Morning Capital Wave Strategist Shah Gilani recently warned readers.
For example, the price of a new car has remained stagnant over the past 20 years, but no longer; this past year alone, the price of industrial materials soared 25%, according to Bloomberg Commodities Indexes.
And TVs may be cheap now, but the copper used in their wiring is 28.4% more expensive than it was last year. This is also a strike against electronic toys, cell phones, and cars, which require copper wiring as well.
Even clothing prices are doomed to shoot up; cotton is up 25% since last year.
"The point is," Shah noted, "that headline 'core' inflation numbers have been ticking up, but underlying prices of everything economies use to generate so-called GDP growth have been soaring."
In response, Shah has developed a strategy for doubling or even tripling your money on rising inflation - while drastically cutting your risk - right here.
An Incredible Win Rate: Since April 28, Shah Gilani's Zenith Trading Circle subscribers have had the opportunity to make average gains of 44% per day (including partial closeouts) on his recommendations. His win record is insane (in a good way). You've got to check this out - just click here.
Follow Money Morning on Twitter @moneymorning, Facebook, and LinkedIn.