On New Year's Eve 2017, your friends, family, and neighbors were celebrating by indulging in food, beverages, and fun.
But early investors were even more jubilant on Jan. 1, 2018.
No, they didn't get their dates mixed up of when to dance the night away...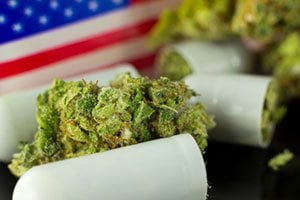 Forward-thinking investors knew Jan. 1 was going to be the single biggest day in the history of the legal cannabis market. That's when recreational California marijuana sales kicked off and created an absolute frenzy in The Golden State.
Fortunately, it's not too late for you to invest, because long-term investors will make the largest gains.
In 2016, legal cannabis sales in North America totaled $6.7 billion.
But in California alone, research firm ICF International projects cannabis sales could top $20 billion.
With that much money on the line, millionaires - and even billionaires - will be minted overnight.
Look, the stats don't lie: U.S. citizens want recreational marijuana legalized.
Just take a glance at the findings of Gallup polls over the years.
Do You Think the Use of Marijuana Should Be Made Legal, or Not?
| | | | |
| --- | --- | --- | --- |
| Date | Yes, Legal | No, Not Legal | No Opinion |
| October 2017 | 64% | 34% | 2% |
| October 2016 | 60% | 39% | 1% |
| October 2015 | 58% | 40% | 2% |
| October 2014 | 51% | 47% | 2% |
| October 2013 | 58% | 39% | 3% |
| November 2012 | 48% | 50% | 1% |
| October 2011 | 50% | 46% | 3% |
You don't have to grow weed, sell weed, smoke weed, or even like weed to get rich from the California "green rush."
But if you don't invest in marijuana right now, you're going to regret it for the rest of your life. Marijuana is too big of an industry to stop, and right now is the best time to get in on the California pot stock explosion before things really take off.
It's the best chance Money Morning Director of Technology & Venture Capital Research Michael A. Robinson has ever seen to turn a small amount of money... even just $50 or $100... into thousands, even hundreds of thousands of dollars... in an incredibly short period of time.
Top Three California Pot Stocks to Watch for the Biggest Gains - Learn How to Cash In Here
Robinson is one of the top financial analysts working today.
In fact, his market-leading The Roadmap to Marijuana Millions - a comprehensive pot stock investing guide released last year - has been a runaway hit, with nearly 100,000 copies claimed in just the last few months alone.
In this report, Robinson personally vetted and recommended America's most lucrative pot stocks... which helped investors make an absolute fortune with massive windfalls.
This is a market that is on fire - with no shortage of windfall opportunities...
All told, at least 21 marijuana stocks surged over 1,000% during the last year.
That's worth repeating: 21 weed stocks - all legally trading on American stock exchanges.
Of course, past performance is never a guarantee of future results.
And quadruple-digit gains aren't exactly commonplace in the stock market.
Robinson wants to make it very clear: Penny stocks are riskier and more volatile than your run-of-the-mill stocks.
But this is exactly what makes investing in pot stocks so exciting right now during this early pioneer phase.
Think about it...
When the billon dollars start pouring into the California recreational weed market, these small companies could see their revenue quadruple.
Robinson and his team have studied balance sheets, products, market size, revenue potential, executive teams...
He's narrowed it down to the three best firms.
Robinson's colleagues know that he's a conservative guy. He would rather under-promise and over-deliver.
But even based on his most conservative estimates, his projections show you could pocket 15,251% profits or more over the next 12 months from these tiny startups.
If you want to cash in on this historic opportunity, this is your ticket...
Follow Money Morning on Facebook, Twitter, and LinkedIn.