Hauling in $1 billion in 2017, anxious investors want to know when is the Coinbase IPO so they can play the booming $510 billion crypto market.
Coinbase President Asiff Hirji hinted the company could go public but was vague about the timing in a December 2017 CNBC interview.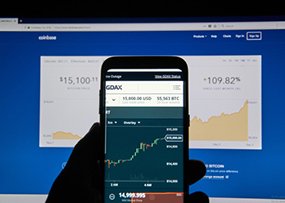 "The most obvious path of Coinbase is to go public at some point, but there's a lot for us to do between now and then, whenever that date is," he said in the 2017 CNBC interview.
But even if Coinbase does go public, it might not be as good of an investment as it sounds...
You see, all IPOs can be subject to volatile price swings, no matter the company.
For example, when Snap Inc. (NYSE: SNAP) went public on March 2, 2017, SNAP shares opened at an all-time high of $28.17 on March 6.
Unfortunately, retail investors who bought at those prices hoping Snap would be the next Facebook Inc. (Nadsaq: FB) lost money...
From yesterday's (Feb. 20, 2018) opening price of $19.31, some early investors have now lost 31.45% of their original investment.
However, we found a different way to profit from the cryptocurrency market without having to invest in a risky IPO or even buy a cryptocurrency.
Best of all, our readers can invest in it today.
Don't Miss This Shot at a $78,000 Windfall: This tiny firm is about to make the entire world wire-free. As its game-changing technology revolutionizes the global power structure, its stock could hand investors a massive return. Learn more...
In fact, some of our readers have already made a profit of 23.43% in the two months since our first report about this company came out on Nov. 27, 2017.
That's more than double the returns of the Dow Jones Industrial Average, which has climbed just 11.71% in the same time.
Not too bad.
But in the next 12 months, wealth management company DA Davidson projects this company's stock price could climb another 67.55%.
Today, we'll show you our backdoor crypto investing play through an established company that's been in business since 1999 and is worth $1.4 billion.
And if you know about this stock right now, over the next 12 months, you can take part in the potential 67.55% gains...
Forget Coinbase, This Is the Real Crypto Profit Play