The "pick-and-shovel" play is based on a simple premise.
When people are chasing shiny objects (like gold), you can join them and hope you end up with a big score. Or you can find something they need on their chase and watch the profits pour in.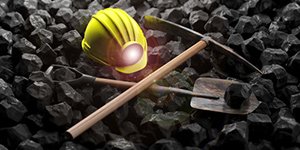 The term comes from the California Gold Rush of the mid-1800s, when prospectors were flocking to The Golden State looking for riches.
Some of them succeeded and ended up wealthy beyond their wildest dreams. A lot more of them failed miserably.
That was due in part to the knowledge and skills of the prospectors. But some of it also had to do with luck. It was a harsh and unforgiving environment, and not everyone made it to the right place at the right time.
A more reliable source of wealth came from selling supplies to miners - such as picks and shovels. These were products that every miner needed, so the seller made money regardless of whether any one customer struck it rich.
A pick-and-shovel play capitalizes on a major growth sector by investing in the products and services that supply it. Instead of trying to figure out which company is going to win the race to dominate a new field, you can sit back and bank steady profits while the various competitors battle it out.
Today we have not one Gold Rush, but several. And instead of making a grueling wagon trip out West, you can invest in these pick-and-shovel plays without leaving your desk.
Here are five of the top-growing sectors today, and our pick-and-shovel plays to deliver consistent and sizeable profits no matter which companies win out.
Pick-and-Shovel Play No. 1: This Lawn and Garden Leader Is Now Helping Legal Marijuana Profits Grow
One of the most reliable profit plays on legal marijuana comes not from a young startup, but from a $5.6 billion enterprise that began 150 years ago in Marysville, Ohio.
That's Scotts Miracle-Gro Co. (NYSE: SMG), a leader in lawn care and gardening products and maker of the familiar "Roundup" brand of weed killer.
SMG has made a big investment in the legal marijuana industry by diving into hydroponics. It's a plant-growing method that's been around for at least 400 years, but it has taken on new significance in the age of large-scale marijuana production.
Because of its specific needs for light and dark, marijuana plants are most effectively grown indoors. Hydroponics makes this process easier by using nutrient-enriched water instead of soil.
In 2014, Scotts created a subsidiary called the Hawthorne Gardening Co., which has managed the company's interests in hydroponic technology. Two years later, Hawthorne began the process of investing a half billion dollars into hydroponics acquisitions, including large stakes in indoor lighting producer Gavita and plant supplement producer American Agritech.
Even without any further marijuana legalization on the way, this would have been a savvy move. Research & Markets projects the global hydroponics market to grow from $19.95 billion in 2015 to $27.33 billion in 2020.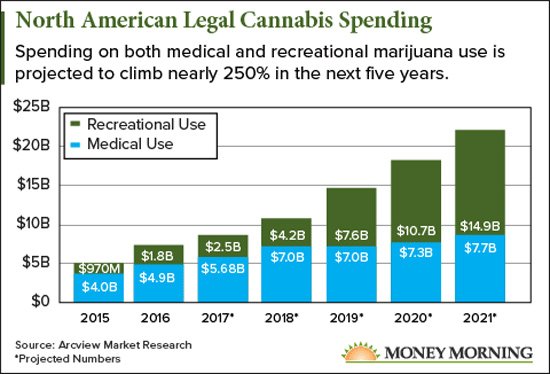 But with legal marijuana consumption set to explode in the coming years, Scotts Miracle-Gro provides investors with the safety and reliability of a Fortune 1000 company while also giving the opportunity to rake in cash from a burgeoning industry.
"Scotts is the clear choice to anchor the low-risk end of the spectrum," Money Morning Director of Technology & Venture Capital Research Michael Robinson. "And its early move to embrace the cannabis community could help turn it into a robust grower."
Pick-and-Shovel Play No. 2: Get In on the Cryptocurrency Craze Without the Wild Ups and Downs
It wasn't that long ago that cryptocurrency was a niche that most traditional investors wouldn't touch. Today, it's featured regularly in The Wall Street Journal, and two highly respected U.S. exchanges have started listing Bitcoin futures.
In November, The Financial Times called cryptocurrencies the "biggest speculative boom since the dot-com fever."
Breaking: California Marijuana Legislation Sparks the Most Profitable Opportunity of 2018. Click Here for Details...
Of course, the key word there is "speculative." No one really knows where Bitcoin or other cryptocurrencies are going from here.
Even the idea that Bitcoin would be a reliable hedge against the traditional markets has proved untrue: When the stock market took a nosedive in early February, Bitcoin continued its plunge that began in December. It fell 63% below its December high before beginning a slow rebound.
So it's understandable that some investors are wary of investing significant amounts in commodities that will make their hearts race on a daily basis.
[mmpazkzone name="in-story" network="9794" site="307044" id="137008" type="4"]
Enter Nvidia Corp. (Nasdaq: NVDA). This Silicon Valley tech company doesn't offer a cryptocurrency, but its GPU graphics cards can be used to mine many of them. Demand for cryptocurrencies such as Ethereum, Litecoin, and Monero is one reason why Nvidia gained 74% in 2017.
Nvidia drew $150 million in revenue from cryptocurrency miners in just one quarter last year. Now there's a reason for that revenue to climb even higher.
A "hard fork" in October created a new, alternate version of Bitcoin. And unlike its parent commodity, the new "Bitcoin Gold" can be mined via Nvidia's graphics cards. That's a new, high-profile cryptocurrency offering miners a reason to turn to this company.
Better yet, Nvidia is also tapped into one of the biggest tech trends of our time: self-driving vehicles. The company has partnered with automakers including Toyota Motor Corp. Ltd. (NYSE: TM), Mercedes-Benz, and Tesla Inc. (Nasdaq: TSLA) to deliver artificial intelligence platforms in their upcoming models.
Owning this stock is like buying a whole portfolio of in-demand cryptocurrencies, plus a lucrative stake in advanced artificial intelligence. It gives you all the excitement of today's hottest investing trends, without the associated risk.
Pick-and-Shovel Play No. 3: There's One Product That Ships with Every Online Order, and This Company Produces It
Picking an e-commerce winner isn't all that difficult: Amazon.com Inc. (Nasdaq: AMZN) has been the obvious choice for years.
But there is one potential problem for investors: that $1,400 price tag.
In this case, a pick-and-shovel play gets us around that barrier to entry by providing something that Amazon and other online retailers can't do without. Thanks to the huge growth in e-commerce, Money Morning Chief Investment Strategist Keith Fitz-Gerald says, "Cardboard boxes have never been so exciting."
"In 2000, the average cardboard box maker produced something on the order of 3.1 billion-square-feet worth of boxes," says Keith. "Today that figure stands at 4.2 billion square feet, or more than enough to cover the entire city of Detroit."
According to market research firm Freedonia, e-commerce accounts for two-thirds of all cardboard box purchases today. The continued growth of online shopping, in other words, is also going to be great for the companies that make those cardboard boxes. Keith has picked one of the best.
Packaging Corp. of America (NYSE: PKG), based in Illinois, is one of the largest producers of containerboard and corrugated packaging products in the United States. And it's been growing at a fast clip.
Between 1997 and 2016, PKG's corrugated products line has grown 68%, much faster than the industry average. Earnings grew 23% last year and are projected to grow another 25% in 2018. PKG has also met or exceeded earnings expectations in each of the last four quarters.
"Cardboard boxes have never been so exciting."
Besides the lower price than Amazon - around $120 per share - PKG also offers a dividend yield of 2.11%.
No, its products aren't flashy, but you probably won't mind the supercharged stock performance Packaging Corp. brings to your portfolio.
Pick-and-Shovel Play No. 4: This Company Doesn't Develop Breakthrough Drugs, but Its Products Deliver Them
New blockbuster drugs hit the market all the time, and they provide major profits for their investors. Then again, only a small fraction of drugs that are developed ever receive FDA approval, let alone blockbuster status.
But if you own the company that makes the syringes to deliver those drugs, it doesn't matter which drugs are successful and which are flops. You make money either way.
Our next pick, Becton, Dickinson and Co. (NYSE: BDX), makes a large line of medical products, including single-use syringes that are literally "must-haves" for countless patients in the 50 countries where BDX operates.
Since Keith recommended this company to readers in September 2014, the stock has risen 93%. That's compared to 39% for the S&P 500.
This is also a great stock to own if you're concerned about market uncertainties. It is a "dividend aristocrat," having raised its dividend for 46 consecutive years. Its yield is currently 1.37%.
And because it sells "must-have" products, it can easily raise its prices as interest rates rise without significant backlash.
BIG, FAST PROFITS: This one pick paid 100% in seven days, then 205% the next day, and 410% by the next week. You've got to see how it's done...
Plus, when the global recession brought the S&P 500 down 34.3% from June 2008 to 2009, BDX shares fell only 6.5%.
Since 2009, earnings have doubled, and the stock price is up 250%. And there is every reason to believe that it will continue to put up similar returns in the years to come.
Pick-and-Shovel Play No. 5: This Pick Makes You Landlord to the 21st-Century's Most Valuable Resource - Information
Digital media consumption has grown at an astounding rate in recent years.
The first video that ever appeared on YouTube was uploaded just 13 years ago. Today, according to analytics site Fortunelords, people watch 3.25 billion hours of video on YouTube every day.
YouTube, owned by Alphabet Inc. (Nasdaq: GOOGL), has plenty of competition. Netflix Inc. (Nasdaq: NFLX), Hulu, Time Warner Inc. (NYSE: TWX) subsidiary HBO, and others are all vying for dominance in online media.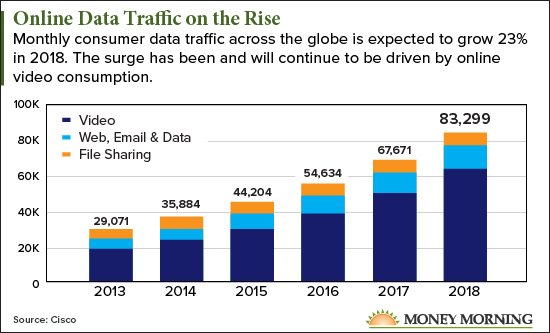 That competition will only become fiercer as more people cancel their cable subscriptions and increasingly rely exclusively on the Internet for their media entertainment.
You can buy a stake in those media companies themselves. But another option is to invest in the real estate those companies need.
Digital Realty Trust Inc. (NYSE: DLR) doesn't boast Emmy-winning programs like "Game of Thrones" or "Stranger Things." But it owns many of the data centers around the world that major technology firms use to store the massive amounts of data they handle. That includes not just entertainment media, but the Big Data and cloud computing storage handled by companies like Amazon, Facebook Inc. (Nasdaq: FB), and Microsoft Corp. (Nasdaq: MSFT).
DLR is going to be a major beneficiary as our whole lives move online.
The share price has slipped since a disappointing third quarter in 2017. But earnings have rebounded and are projected to grow 86%. Since Digital Realty is a real estate investment trust (REIT), higher earnings mean higher dividends. DLR already has an impressive yield of 3.64%.
No wonder Michael called this pick-and-shovel play a "solid foundational holding."
While You Sleep, He Executes Night Trades...
 Last Wednesday, the Night Trader infiltrated the markets at 9:30 p.m. The next time he checked his account on Friday, his entire portfolio went up 83%.
He then spent the weekend at a five-star hotel. And on Monday, saw an additional 102% total gains in his account.
That's 185% total gains in two trading days (all without using a single option).
Once you see how the Night Trader makes money, your life will never be the same again. Go here now.
Follow Money Morning on Twitter @moneymorning, Facebook, and LinkedIn.
About the Author
Stephen Mack has been writing about economics and finance since 2011. He contributed material for the best-selling books Aftershock and The Aftershock Investor. He lives in Baltimore, Maryland.