The news has been rife with rumors of rising inflation in recent weeks, leaving many investors wondering how to navigate the market.
One option is to panic – that's what Wall Street is doing.
The CBOE Volatility Index (VIX) jumped 260% in the last month – a telling sign that institutional investors are spooked by the possibility of increased interest rates in response to higher prices.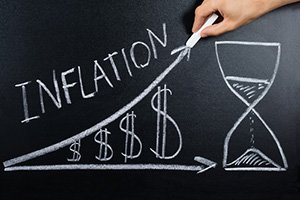 However, Money Morning Capital Wave Strategist Shah Gilani knows we shouldn't be panicking.
We should be planning our first profit play instead.
Shah recently gave some expert insight to Money Morning readers about the imminent threat of inflation.
"The inflation genie's about to be unleashed, and traders and investors have only been talking about it – they're not ready for it," he says. "However, you can be."
Here's a closer look at what's driving the recent uptick in inflation – and how you can set yourself up for profit…
The Hidden Costs of Raw Resources Are Behind Rising Inflation Fears
For the last 20 years, the Consumer Price Index (CPI) – a measure of the change in the price of consumer goods – has remained below 3%.
However, Shah points out that the cost of the raw materials necessary to produce these goods is rising much faster, which means we could see a sudden spike in the CPI in the future.
It Only Takes 10 Minutes a Week to Double Your Way to $1 Million: This strategy doesn't require any special training – yet it could potentially put $1 million in your bank account faster and easier than you ever dreamed…
"Inflation numbers have been ticking up, but underlying prices of everything economies use to generate so-called GDP growth have been soaring," Shah told his readers. "The price of industrial materials, used to manufacture almost everything, is up 25% over the past 52 weeks. Cotton is up 25%. Energy, as measured by West Texas Intermediate crude, is up 48%."
As these rising prices drive up initial investment costs, producers will eventually pass these cost increases onto consumers in the form of higher price tags.
Shah also points out that "wage pressure is on the rise after years of ultra-low unemployment and meager wage gains."
In other words, low unemployment is pushing wages up, giving suppliers all the more reason to demand more money for their products.
As inflation pushes the cost of production and the cost of goods up, the market will begin to feel the pressure.
A recent study from Bloomberg plays this out – for the last 90 years, when inflation was below 3%, the S&P 500 showed an average return of 16%. However, when inflation rose above 3%, the average return was just 6.5%, which means stocks grow an average of 60% less when inflation rises.
With smaller returns and an increasingly weaker dollar, the impact of inflation on your portfolio could be drastic.
Unfortunately, there's no question that rates of inflation are increasing. According to Statistics Portal, the inflation rate sits at 2.1% and is expected to rise 13% in the next year.
However, if Shah's inflation projections are correct, then these estimates are far too conservative – leaving the unprepared investor in for a shock.
That's why now is the perfect time to take a close look at Shah's profit play – one that will help you protect your portfolio from the ravages of rising inflation.
Here it is…