On Feb. 5, the Dow experienced its largest intraday drop in history, with a loss of over 1,600 points.
The early February downturn has investors concerned about what may be next, including questions about a possible stock market crash in March 2018.
Insert image, wrap text: https://www.shutterstock.com/image-photo/stock-market-arrow-graph-going-down-311358320?src=7yijtjZYlyBmvaQX4E1D7g-1-26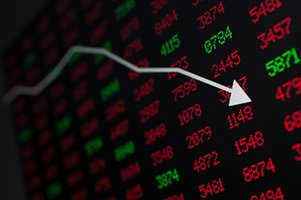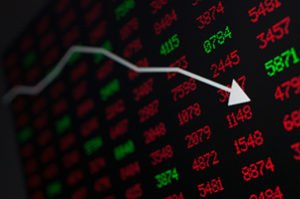 The brief downturn in early February passed the threshold of a stock market correction – a loss of 10% or more.
This would mark the fifth correction experienced during the second-longest bull market of all time over the past nine years. The last correction, in 2015, occurred when the Dow dropped 11% from July to September.
But as the record-breaking run of stocks continues despite five corrections, investors are wondering if the stock market will crash in March.
Urgent: Feds use obscure loophole to threaten retirees. If you have a 401(k), IRA, or any type of retirement account, this could cause you to miss out on $68,870 or more. Learn more…
While we aren't predicting a stock market crash in 2018, the correction that kicked off February underscores why it's so important for investors to have a plan.
Here are the stock market crash warning signs we're looking at, and what you can do to protect your money…
The Factors That Could Lead to a Stock Market Crash in March 2018
While we don't believe that a market crash in 2018 is likely, there are still reasons investors can't afford to be complacent during this stage of the market cycle.
First, we could soon be witnessing signs of a market crash thanks to the U.S. Federal Reserve.
You see, the Fed has had a lot to do with the length and strength of our current bull market.
When the 2008 financial crisis hit, the Fed embarked on a program to stimulate the American economy. One of the ways that it did this was by slashing interest rates to historically low levels. The rationale was that low borrowing costs would prompt businesses to invest more in growth, which would help the economy.
In 2008, the Fed cut rates to 0.25%, down from over 5% the prior year. This was the lowest interest rate in history.
And its plan worked…
Businesses borrowed a ton of cash. They just didn't use it the way that the Fed intended.
Between 2009 and 2016, publicly traded companies borrowed $1.9 trillion while spending $2.1 trillion to repurchase shares of their own stock.
This is one of the reasons that we have seen such massive gains in the stock market since 2009. When companies buy back shares, it boosts share prices. Since March 2009, the Dow is up 267.37%, including early February's downturn.
Second, there are signs that shares are overvalued, which could be an indication of a stock market bubble.
Now, there's no way to determine whether any asset is in a bubble until it pops, but we can compare current valuations to past bubbles.
The cyclically adjusted price-earnings (CAPE) ratio is currently 33.6, more than double its historical average of 16.8. And it's higher now than it was in 1929, before the stock market crashed. The only time the CAPE ratio has exceeded today's value was in 2000, at the height of the dot-com bubble.
Again, that doesn't mean we are in a bubble now, but it's a reason for investors to consider how to protect their money.
The conditions that drove these recent market gains are coming to an end. The Fed has increased interest rates five times since 2015, with its most recent increase in December 2017, and there are three more hikes planned for 2018 alone.
That could push rates above 2% for the first time since the financial crisis in 2008.
Stocks may continue to grow in spite of these challenges, particularly in light of the new tax law changes. However, it's always a good idea to be prepared, especially in the wake of the correction that we've just experienced.
And since we don't expect the market to crash but still want you to be prepared, we're showing you some of the most resilient, must-have stocks to own that will help keep your portfolio afloat while setting you up for long-term profits…
How to Prepare for a Possible 2018 Stock Market Crash