Bitcoin is the most well-known cryptocurrency out there thanks to its meteoric rise in price last year. But the cryptocurrency NEO blew Bitcoin's gains out of the water...
While Bitcoin prices climbed 1,364% in 2017, the price of NEO skyrocketed an astonishing 54,321% during that same time.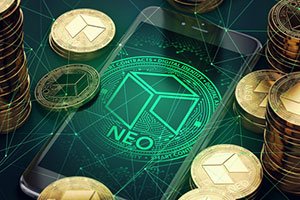 After a massive price jump from $0.14 to $76.19 per coin, it's unlikely we're going to see a 54,000% return over the next year.
However, Skye Dunworth, the founder of investing platform Spendher, still projects NEO prices will climb 320.48% by the end of 2018 to $500.
Of course, we advise Money Morning readers to never invest more than they can afford to lose in cryptocurrencies. NEO was created just four years ago, in 2014, and cryptocurrencies are still speculative investments.
The price could climb to $500 just as easily as it could plummet back to $0.14.
But because there is a potential profit opportunity here, we wanted to provide this NEO cryptocurrency guide as a service to Money Morning readers.
Today, we're going to share all the details about how NEO works, how much NEO trades for, and its market cap.
We're also going to answer the most important question: "Should I Buy NEO?"
First, here's everything you need to know about how this crypto coin works, and why its price skyrocketed 54,321% in one year...
How the Cryptocurrency NEO Works
In 2014, Chinese developers Erik Zhang and Da Hongfei created "Antshares." In 2017, they rebranded Antshares to NEO, which means "new and young" in Greek.
On its website, the team behind NEO provides a description of what they are trying to accomplish.
"NEO is a non-profit, community-based blockchain project that utilizes blockchain technology and digital identity to digitize assets, to automate the management of digital assets using smart contracts, and to realize a 'smart economy' with a distributed network."
That sounds confusing, but all you really need to know is NEO is connecting digital identities and digital payments in smart contracts (self-executing contracts).
Because of these smart contracts, which is a key benefit of the Ethereum platform, NEO is referred to as the "Chinese Ethereum."
Having a digital identity is almost like having an eBay Inc. (Nasdaq: EBAY) buyer or seller account, as it's normally not someone's real name. It's just a way to identify an individual or a business.
The digital payments allow users to send cryptocurrencies, just like standard payments.
But unlike eBay, the settling of transactions is more sophisticated thanks to the smart contract.
The smart contract will only execute when all previously agreed-upon terms are met, and it will no longer require buyers and sellers to be physically in the same room for certain transactions.
Tiny Startup on the Brink of an Epic Sales Surge: With the swing of a gavel, a federal judge just rendered a shocking verdict - and ignited a potential 28,700% revenue surge for a tiny Silicon Valley startup. Go here for all the details - before everyone else gets in on this.
For instance, a homebuyer and a seller could use a smart contract to transfer the deed to a property. The buyer would only receive the deed once they send the money for the house, and the seller would only receive their money once they sent the deed.
Normally, money is stored at a bank and contracts are kept separately on file with companies and governments to help settle disputes.
But with a smart contract, a payment and a contract can both theoretically be stored together.
To run these smart contracts, the crypto coin GAS is used.
Users pay GAS to run smart contracts, so if you're just investing in NEO, you don't have to worry about it.
But this GAS does offer NEO holders an added bonus...
NEO holders receive GAS as a "dividend."
For instance, if you owned five NEO coins, you would receive 0.51 GAS tokens per year, according to NeotoGas.com.
That would be a "dividend" yield of 3.15%.
And because the Chinese government can keep track of who is doing what through NEO's platform, it's appealing to the Chinese officials...
"One of the main objections China has to digital currencies like Bitcoin is that the transactions are anonymous unless you can link a Bitcoin address to an individual," Money Morning Cryptocurrency Expert David Zeiler said on Aug. 17, 2017.
Zeiler was one of the first financial journalist to cover Bitcoin back in 2011, and he even mined his own coins then.
"Remember, this is a country that maps out five-year plans for its economic development. And it's no coincidence the policies of the current five-year plan (for 2016 to 2020) emphasize the need for 'innovation-driven development.' A government-friendly cryptocurrency platform fits that bill nicely," said Zeiler.
And because NEO could become a digital currency adopted by the Chinese government and its 1.37 billion population, prices have skyrocketed...
NEO Prices Skyrocket from 2017 to 2018
NEO prices opened at $0.14 on Jan. 1, 2017, and they jumped 54,321% by Jan. 1, 2018.
Prices climbed as high as $196.85 on Jan. 15, 2018, but they dropped 39.59%, to $118.91, on Feb. 26. During that same time, Bitcoin prices dropped 29.8% thanks to fears of global regulation.
You see, because Bitcoin is the most well-known cryptocurrency, it tends to serve as a benchmark for the entire industry.
The price of other crypto coins can rise and fall depending on how Bitcoin prices are performing.
NEO got sucked into the downward price spiral as crypto investors feared looming regulation. But NEO is less susceptible to regulation since its users aren't completely anonymous.
NEO prices are still up 56.07% so far in 2018.
It's also climbing its way into the top five cryptocurrencies by market capitalization...
NEO Is Now in the Top 10 Cryptocurrencies by Market Capitalization
As of Feb. 27, NEO had a market cap of $9 billion.
As you can see in the table below, it's only slightly behind Litecoin's market cap of $11.9 billion.
| | | |
| --- | --- | --- |
| Cryptocurrency | Price (Feb. 27, 2018) | Market Cap (Feb. 27, 2018) |
| Bitcoin | $10,619.90 | $179.3 Billion |
| Ethereum | $875.90 | $85.7 Billion |
| Ripple | $0.94 | $37.1 Billion |
| Bitcoin Cash | $1,245.68 | $21.1 Billion |
| Litecoin | $216.13 | $11.9 Billion |
| NEO | $138.46 | $9 Billion |
Now that you know how NEO works, its price, and its market capitalization, we've arrived at the most important question: "Should I Buy NEO?"
As we mentioned earlier, there's a bullish NEO price prediction from Dunworth of $500. That's a potential gain of 320.48% for NEO holders.
However, that may be too conservative of a NEO price prediction...
This NEO Price Prediction Shows Gains of 740%