After a brief stock market correction in February caught investors by surprise, the announcement of new steel tariffs has sent stocks plunging again.
The Dow dove over 400 points on Thursday (March 1) and continued its decline on Friday (March 2). While we aren't in correction territory, the recent volatility underscores the need for a stock market crash insurance plan for every investor.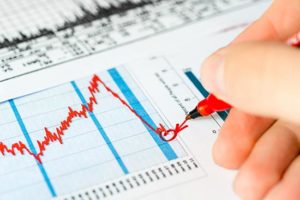 Now, we aren't predicting a stock market crash, but we also don't want our Members caught flat-footed if stocks tumble even more. The nine-year-long bull market, the second-longest in history, has made some investors complacent.
Market corrections and pullbacks are normal parts of the stock market's cycle. Prepared investors will fare much better during the next one.
And here's the good news. Money Morning is preparing investors by sharing stock market crash protection strategies with our readers.
In fact, you can even profit as the markets fall...
How to Profit When Stocks Fall
If you're anticipating stocks will fall, then this strategy will help you profit.
Money Morning Chief Investment Strategist Keith Fitz-Gerald says investors can place a small - less than 5% - portion of their portfolio in Rydex Inverse S&P 500 Strategy Fund (MUTF: RYURX).
Holding RYURX gives you the same benefit of shorting the S&P 500 index, but without the risk associated with shorting equities.
Urgent: An $80 billion cover-up? Feds use obscure loophole to threaten retirees... Read more...
RYURX goes up when the market goes down. During February's correction, it rose 10%. That's like having an insurance plan for a stock market correction and will help boost your portfolio as other stock prices are dropping.
While there is risk associated with RYURX, the losses are capped at your initial investment, rather than the unlimited losses that shorting a stock could bring.
That also means RYURX isn't a "buy-and-hold" stock, but one that should only be strategically used when you're anticipating a correction or pullback. If the stock market continues to gain, RYURX will lose value.
And while shorting the overall market can help buoy your portfolio during downturns or a 2018 market crash, owning some of the most resilient stocks on the market is another way to protect your money.
The two stocks we're about to show you have double-digit profit potential over the next year and proved resilient during past market crashes.
By owning well-managed companies in must-have industries, you can protect your portfolio from the fallout of a market crash...
2 Stocks to Own During a Market Crash