The Microsoft stock price may be trading at record highs, but Money Morning Director of Technology & Venture Capital Research Michael Robinson believes now is the perfect time to buy.
"It's a great stock," Robinson told me just last week (Feb. 28).
And when he gives advice, we pay attention...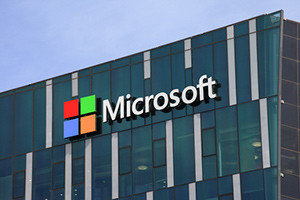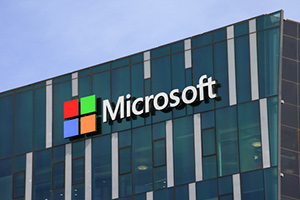 Michael's been a giant in tech investing for more than 30 years. As a leading analyst and tech journalist, he's been on the forefront of just about every major emerging technology story of the last decade. He's even been nominated for a Pulitzer Prize.
His privileged access to technology-pioneering CEOs, prize-winning scientists, and high-profile industry insiders has allowed him to consistently bring his readers huge gains on remarkable tech breakthroughs. Michael was out in front on 3D printing, the mobile wave, and shale energy technologies well before anyone else.
And when Robinson went on Chuck Jaffe's "MoneyLife" podcast on Feb. 28, he gave three reasons why he's so bullish on the Microsoft Corp. (Nasdaq: MSFT) stock price.
Azure cloud
Legal cannabis
Cryptocurrency
All of these are going to be huge revenue sources, and more revenue can lead to a higher share price.
Microsoft's Azure cloud offers storage, analytics, machine learning, and developer tools. In Q2 2018, the tech giant reported commercial cloud revenue climbed 56% year over year, to $5.3 billion.
Microsoft didn't specify how much revenue Azure brought in, but MSFT said Azure had revenue growth of 98% over the last year.
Plus, the cloud isn't the only new frontier Microsoft is expanding into. Microsoft is an early mover in the legal marijuana industry.
In fact, it partnered with a startup called Kind in 2016.
Kind offers cannabis-tracking software that monitors seed-to-sale production for growers, sellers, and government agencies. This will help growers and sellers stay compliant with new laws, and it will also help keep cannabis off of the black market.
And with 30 states and the District of Columbia having some form of legalized marijuana, the need for this service is going to be huge.
Legal marijuana sales in North America totaled $10 billion in 2017, and that's expected to skyrocket 145%, to $24.5 billion, by 2021.
That's a lot of cannabis to keep track of.
Finally, Robinson loves MSFT stock because it's also a play on the $443 billion cryptocurrency market.
The No. 1 Crypto Tom's Buying Right Now: Tom Gentile is predicting a massive price surge for a little-known cryptocurrency trading under $0.30. Click here to see his pick and exactly how to trade it.
In August 2017, Microsoft launched the Confidential Consortium (Coco) Framework, which aims to turn the promise of Ethereum's smart contracts into a disruptive reality.
Microsoft CTO Mark Russinovich said on Aug. 12, 2017, that the tech giant has started exploring how Coco can be used in the retail, supply chain, and financial services sectors.
Because of all these sources of revenue growth, analyst are joining Robinson in his bullish outlook for the MSFT stock price...
Over the next 12 months, investment bank Piper Jaffray expects the MSFT stock price to climb to $115 per share.
From today's (March 6) opening price of $94.34, that's a potential gain of 21.89%.
That profit opportunity doesn't even include Microsoft's $1.68 dividend, which is a yield of 1.81%.
Of course, now matter how good things look for MSFT shareholders, Microsoft stock is not immune to market volatility.
The Dow Jones Industrial Average dropped nearly 5.5% from Feb. 27 to March 2, and the MSFT stock fell right along with it during that same time.
It dropped from $95.74 to $91.58, a 4.34% loss in less than a week.
However, Robinson always has a plan to minimize losses and maximize gains.
Robinson says his strategy is "perfect to use when market volatility is high."
When used correctly, it will protect you from volatile markets.
But that's not all...
It could also maximize your returns.
Here's how it works, so you know how to capitalize on the double-digit gains Microsoft stock could make its shareholders in the next 12 months...
Use This Strategy to Maximize Your Profits from Microsoft Stock