Investing in high-risk stocks can take you to the cleaners if you're not careful, but the right picks can provide massive returns.
For example, a recent success story is Marathon Patent Group Inc. (Nasdaq: MARA). The MARA stock price soared 319% during the short Thanksgiving week in 2017, going from $1.42 to $5.95 per share.
You see, this large price jump is what makes these high-risk stocks. You shouldn't have too many penny stocks in your portfolio, because the prices could skyrocket just as fast as they could plummet.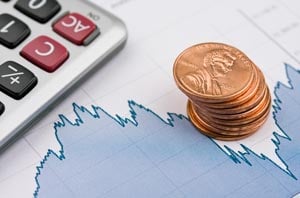 That is why the high-risk penny stocks on our watch list shouldn't be considered recommendations.
These are stocks to know about because of their large profit opportunities based on analyst projections.
And the first high-risk stock to watch in March could climb over 400% in the next year...
High-Risk Stocks to Watch in March, No. 2: Genesis Healthcare Inc.
Genesis Healthcare Inc. (NYSE: GEN) is a leading provider of healthcare services, according to its website.
It provides rehabilitation services, long-term care, and assisted/senior living services. It also employs more than 70,000 people across 1,700 locations.
Trading between $0.60 and $2.92 per share in the last 52 weeks, GEN certainly fits the bill as a high-risk stock.
But the profit opportunity is too large to ignore...
Over the next 12 months, financial service firm Cantor Fitzgerald projects the GEN stock price could climb to $7 per share.
Collect a Colossal Payday Thanks to California's Legal Cannabis - Click Here Now to Learn How to Position Yourself for Windfall Profits
From today's (March 8) price of $1.37, that's a potential profit of 410%.
And this next high-risk stock could net shareholders even larger gains.
Over the next 12 months, one firm projects it will climb 669%.
[mmpazkzone name="in-story" network="9794" site="307044" id="137008" type="4"]
High-Risk Stocks to Watch in March, No. 1: Immune Pharmaceuticals Inc.
Immune Pharmaceuticals Inc. (Nasdaq: IMNP) is a New Jersey-based company developing treatments in the fields of immuno-inflammation and dermatology.
Right now, its "Bertilimumab" drug is in ongoing phase 2 trials for bullous pemphigoid and ulcerative colitis. Phase 2 studies test the efficacy of a drug, and they can last from several months to up to two years, but it's a sign the drug has promising potential.
Bullous pemphigoid is a very rare skin condition with fewer than 20,000 U.S. cases per year, but it's very serious, causing fluid-filled blisters.
Ulcerative colitis is more common, with more than 200,000 U.S. cases per year, and it can cause abdominal cramps and rectal bleeding.
The global ulcerative colitis market is expected to be worth $6.6 billion by 2022, a 57% increase from $4.2 billion in 2012.
It also has a product in pre-clinical trials called "Nanocyclo."
Nanocyclo helps patients suffering from psoriasis and atopic dermatitis with an anti-inflammatory remedy.
Psoriasis causes itchy and dry patches on skin and affects more than 3 million people in the United States each year. Atopic dermatitis causes itchy inflammation of the skin and also affects more than 3 million people in the United States each year.
Grand View Research Inc. projects the global psoriasis therapeutics market will be valued at $21.4 billion by 2022, a 386.36% increase from the $4.4 billion U.S. market in 2016.
The global atopic dermatitis market is expected to climb 89.60%, from $4.04 billion in 2016 to $7.66 billion by 2025, according to BusinessWire.com.
And because of these new potential revenue sources, analysts are bullish...
Over the next 12 months, trading and research firm Monness Crespi Hardt projects the IMNP stock price will climb to $3.00 per share.
From today's price of $0.39, that's a potential profit of 669.23%.
Pot Stock Profits: $20.2 billion... That's the amount of money expected to pour into California's cannabis market following the state's recent legalization of recreational marijuana. This could spark the most profitable opportunity of 2018. For details on three tiny pot stocks that could hand you the biggest gains, click here now...