Frankly, it's crazy.
By all accounts, gold has resumed its secular bull market after four and a half long, long years in correction mode.
The funny thing is... you wouldn't know it judging by the "mood" of the market.
Here's what I mean: The average American has, at least until very recently, given up on precious metals.
You couldn't even charitably call coin sales "mediocre."
January sales of U.S. Mint American Eagle gold coins were down 50.2% from the same month last year. Sales were halved, from 117,500 to 58,000. For all of 2017, full-year sales of silver and gold American Eagle coins hit their lowest levels in 10 years.
Gold stocks have fared even worse. And with major stock indexes trading near all-time highs, it's easy to see how gold may be losing its luster for mainstream investors. Sentiment is very negative as the miners have struggled to gain traction.
But those armed with facts, strong research, and foresight are able to see a tremendous opportunity forming in a small subsector of the gold market.
There's a rare anomaly taking shape at this very minute - one that offers incredible profits.
There's millions in upside lying on the table. It's the easiest thing in the world, then, to walk up and take it while millions of other investors are looking the other way...
[mmpazkzone name="in-story" network="9794" site="307044" id="137008" type="4"]
Here's Proof the Gold Bears' Arguments Don't Hold Water
Some analysts have been calling for a gold crash. But what you must remember is, those perennial gold bears have been repeating that same forecast for years.
To be fair, from late 2011 until late 2015, their predictions came true. But then again, even broken clocks are right twice each day.
OPPORTUNITY ALERT: A tiny company's revolutionary device has just been approved by the FCC - and even a small stake could reward you with astronomical gains. Find out how here...
Yet, that correction has been over since 2016 - ancient history. Still, many of those bears continue to call for lower prices.
Reality, however, has been something else entirely.
Gold's high since its bear market ended was $1,365, when it peaked in June 2016. But gold's current price, near $1,330, is only 2.5% below that level. That's a testament to its renewed strength and return to bull market action.
After bottoming at $1,050 in December 2015, gold has already gained $280, plowing ahead by 26.7%. Meanwhile, stocks near record highs are getting all the attention, while gold's being ignored.
If that's not proof of the bizarre contradiction of a gold bull being met by profound investor indifference, I don't know what is.
There's something else to consider, too, that few others are - there's been a severe dearth of gold discoveries over the last eight years.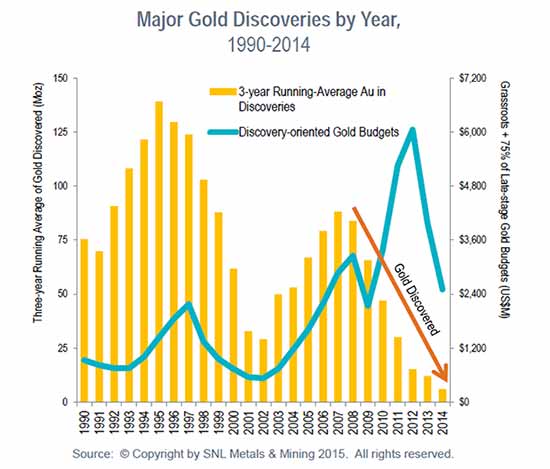 As larger producers deplete their reserves, they will need to turn to - surprise - junior miners with attractive projects in order to replace mined deposits.
Now we're coming to the reason why I'm so excited right now...
This Is the Perfect Profit Setup
Junior gold miners are a very special asset class that has produced thousands - even tens of thousands - of percent returns for savvy, and early, investors.
And right now, a rare anomaly has presented itself in this very market. It's a chance for those willing to step into the fray to reap the rewards many times over.
Once gold returned to its secular bull market in late 2015, it wasn't long before junior gold stocks joined in.
When they did, their price action was dramatically higher.
Don't Miss This Shot at a $78,000 Windfall: This tiny firm is about to make the entire world wire-free. As its game-changing technology revolutionizes the global power structure, its stock could hand investors a massive return. Learn more...
The main exchange-traded fund (ETF) representing this sector, the VanEck Vectors Junior Gold Miners ETF (NYSE: GDXJ), touched its all-time low of $17.70 in late January 2016. From there, its unit price exploded higher, reaching $51.08 in early August.
It was a spectacular run, to put it mildly; the GDXJ nearly tripled, up 288% in just over six months.
But remember, that was the average junior miner owned by this ETF. There were dozens of individual companies that went up 500% or more in that time frame.
Some of the "best of breed" did even better. When the sector cooled off in late 2016, some juniors held their own, then went onto much higher levels: in some cases, up 1,000% or even 1,200%.
Within a matter of months, certain companies provided early investors with over 10 times their initial stake.
Yet, if we look at this sector today, it remains depressed and extremely undervalued.
One way to gauge this is through the GDXJ-to-gold ratio. This simple indicator plots the relative price of these two assets. Here's what it has looked like over past few years.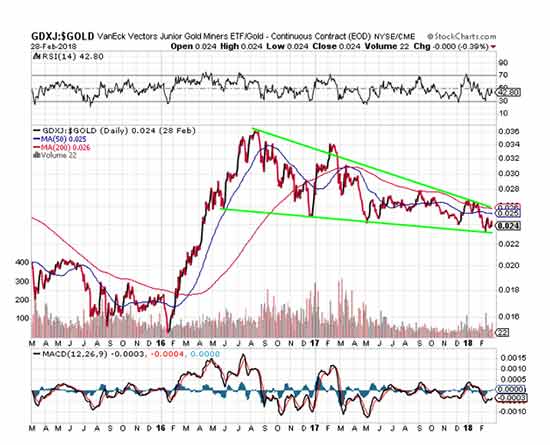 Despite the massive runup in the first half of 2016, which pushed junior gold stocks higher relative to gold, they've been in a downward trend since then. The ratio is currently meandering near the lows it touched back in May last year.
In other words, these equities have been underperforming gold, on balance, since August 2016.
The upshot: Junior gold stocks at their cheapest relative to gold since April 2016. And it looks like that underperformance is nearing its end.
For the past 18 months or so, the GDXJ-to-gold ratio has been forming a "falling wedge." This is a bullish technical pattern. As the lines converge, the upper resistance line is eventually broken.
So now's the time to get ahead of that breakout; to acquire some of the most promising junior gold miners in the sector... while other investors stay asleep at the wheel.
These Are the Top Picks in a Segment Set to Surge
Paramount Gold Nevada Corp. (NYSE: PZG) is an exploration and development company with two significant U.S. deposits. Thanks to deep management experience and a successful track record of advancing projects, Paramount deserves your full attention.
Its flagship is the Grassy Mountain Gold Project, located in Oregon, about 70 miles west of Boise, Idaho. As a result of acquiring Calico Resources back in July 2016, Paramount became 100% owner of this project, which boasts 1.7 million ounces of gold and 4.9 million ounces of silver.
A preliminary economic assessment (PEA) was prepared in 2015 under Calico management, and it foresees an economic underground mine at $1,300 gold and $17.50 silver prices, with an all-in gold equivalent production cost of just $880 per ounce. The net present value of Grassy Mountain is $72 million after tax, which is nearly two and a half times the company's current market cap, with no credit for other assets. A pre-feasibility study (PFS) to advance Grassy Mountain, taking into account new drilling results and testing work, is expected in early 2018 and should improve the project's economics considerably, aiming to lower capex by $20 to $30 million.
In February, the company announced it was exercising an option to buy back 75% of the net smelter royalty, from 6% to 1.5%, and was acquiring all rights to the private land at Grassy Mountain.
Paramount is about 7% owned by Seabridge Gold Inc. (NYSE: SA) as a result of the Calico acquisition. And Rudi Fronk, Seabridge's own chair and CEO, is also chair of Paramount. As well, Glen Van Treek, Paramount's president and board member, has more than 25 years in mining exploration and production. All of this positions Paramount as a great way to play the precious metals bull market and, especially, the junior gold miners emerging opportunity.
Lion One Metals Ltd. (TSX.V: LIO) is a Canadian development and exploration company. Its flagship project is the Tuvatu Gold Project in Fiji, a 100%-owned, high-grade, low-cost underground mine. Lion One was founded by Walter Berukoff, a well-known entrepreneur with multiple previous mining successes.
Here are some of the project's characteristics that make it so attractive. The 2015 PEA foresees a low-cost underground mine, which should produce about 350,000 gold ounces over an initial six-year mine life. Head grades are expected to run about 11.3 grams per ton of gold, and all-in sustaining cost should run $779 per ounce. The total construction cost will be a low $48.6 million, with an 18-month payback period. The project is already fully permitted and currently being drilled from under and above ground to explore the potential of expanding the resource.
Working from a reasonable $1,200 gold price, the project will generate net cash flow of $112.66 million and an impressive internal rate of return of 52% after tax.
Consider, too, that Lion's market cap is currently $64 million Canadian ($49.2 million U.S.), so its cash position of $24 million Canadian ($18 million U.S.) represents more than a third of that amount. That certainly helps to minimize risk in a big way. If you subtract that from the market cap, Lion One is being valued at $40 million, while the after-tax value of the Tuvatu project (discounted at 5%) is a whopping $86 million.
Meanwhile, the Tuvatu mine is being advanced with construction of the processing plant and infrastructure. The company is working to expand its resource footprint and has over 200 square km of prospective ground to explore.
In fact, exploration upside could be a real kicker here. Drilling outside the current resource has intersected several meters showing up to 71.41 grams per ton in gold, which is nearly 2 ounces per ton. The 2018 surface exploration program has just gotten under way. Watch for ongoing news flow, as good drill results and the first gold pour could get the market really excited.
GoldQuest Mining Corp. (TSX.V: GQC) is an emerging exploration and development company focused on gold and copper in the Dominican Republic. Management has already developed a mine currently in operation in the country.
GoldQuest's flagship project is its 100%-owned Romero Project. Romero has already achieved a PFS. Essentially, once in production, Romero will be a 3,086-ton-per-day underground mine focusing on the high-grade copper and gold "core" of the Romero Deposit.
According to the PFS, Romero holds maiden probable mineral reserves of 840,000 ounces of gold, 980,000 ounces of silver, and 136 million pounds of copper. The annual gold equivalent projected production would be 109,000 ounces at an all-in sustaining cost of $595 per ounce. The initial capital expenditure (capex) for this project is $159 million, and the payback is just 2.5 years.
At a 5% discount rate, the after-tax net present value of the project is an impressive $203 million - that's nearly triple the current market cap.
In March last year Agnico Eagle Mines Ltd. (NYSE: AEM) made a strategic investment of 15% of outstanding GoldQuest shares for C$ 22.86 million ($16.9 million). That gives GoldQuest not only a great cash infusion to advance Romero, but a healthy dose of extra credibility, and perhaps even a future acquirer.
Making GoldQuest even more interesting is that Romero could be on a whole new gold trend, the Tireo Gold-Copper Belt in western Dominican Republic. As well, in January last year, the company announced a new gold-rich polymetallic discovery named Loma El Cachimbo. Follow-up drilling recently proved equally exciting, with a 5.05 meter intersection grading 8.4 grams per ton of gold within 148 meters of 0.8 grams per ton gold.
So all this makes GoldQuest another great junior gold company with solid management, a top-notch economic project, and tremendous potential for expansion as new discoveries help sweeten the pot.
NEXT UP: "This Changes Everything"
 A tiny company's game-changing device has just been approved by the FCC... and it's set to spark the most monumental technological transformation you'll ever see.
This is the only device of its kind to receive this historic approval, and the floodgates are set to open any minute.
With one tiny company at the heart of this revolution, even a small stake could reward you with astronomical gains.
You need to hurry if you're to find out how to take advantage of this ground-floor profit opportunity...
Follow Money Morning on Twitter @moneymorning, Facebook, and LinkedIn.